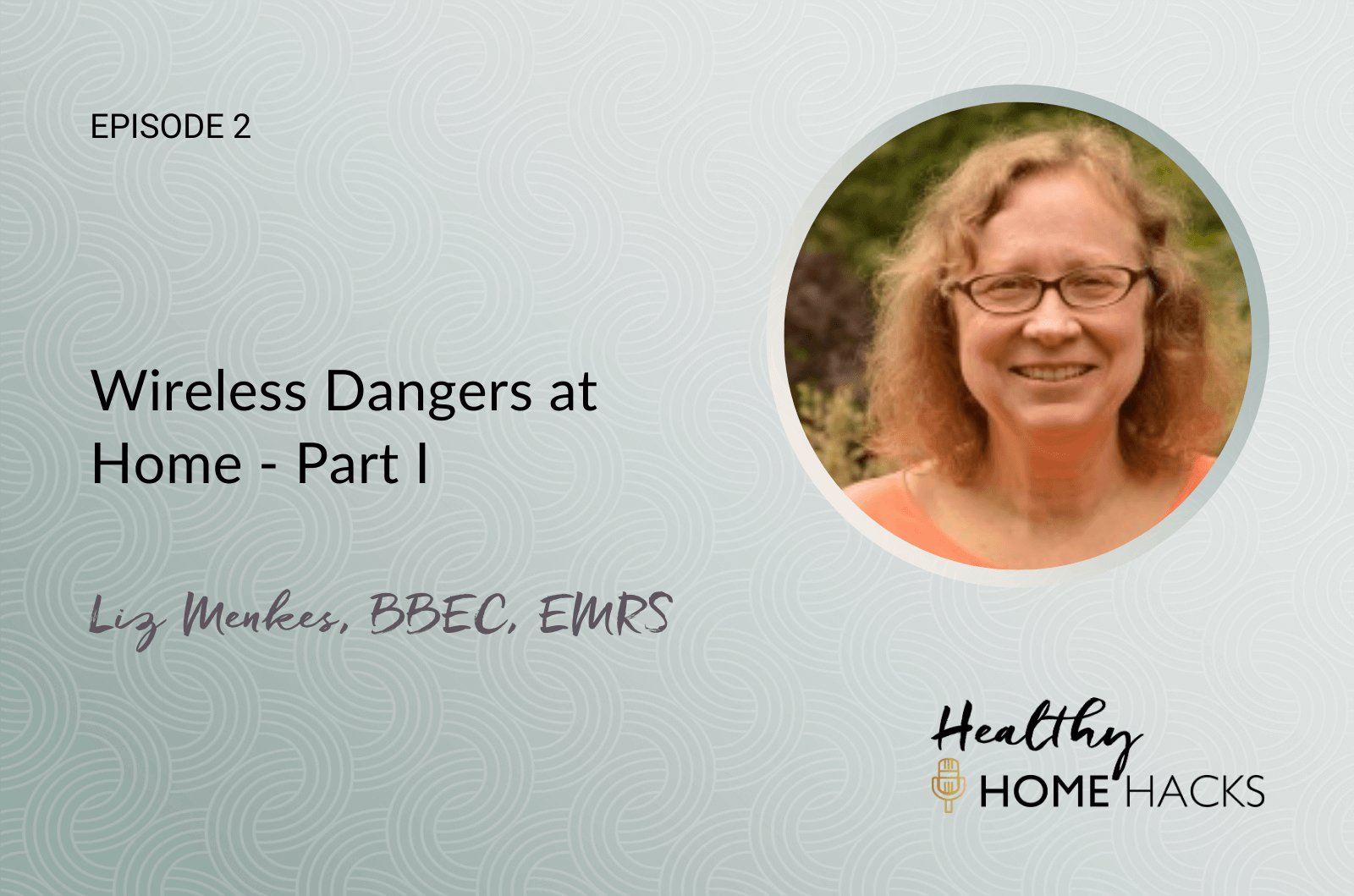 In this episode of Healthy Home Hacks, Building Biology Environmental Consultant, and Electromagnetic Radiation Specialist, Liz Menkes, discusses the sources of wireless radiation in our homes today. From the most serious wireless issues she finds in her professional home assessments and consultations to her suggestions on going hard-wired, Liz takes us down the radiation rabbit hole.
Liz shares what you need to know if you are currently using Wi-Fi in your home for your phone, smart hub, computer, laptop, iPad, games, or baby monitor. Liz suggests healthy alternatives to reduce you and your family's exposure to wireless radiation and reveals why children are the most vulnerable.
This episode is brought to you by The Building Biology Institute, a non-profit organization that is dedicated to the holistic science that you can embrace in their seminars, courses, certification programs, fact sheets and videos on designing, building, remediating health-supporting structures in harmony with planetary ecology. Join informative thinkers and stay up to date with new research on their Facebook page and find out more and become a member online HERE.
Listen to all episodes of Healthy Home Hacks on your favorite podcast app
Rate, Review, & Subscribe on Apple Podcasts
"I love Ron & Lisa and Healthy Home Hacks." <– If that sounds like you, please consider rating and reviewing our new show! This helps us support more people — just like you — regain their health, protect their loved ones, and enjoy more energy. Click here, scroll to the bottom, tap to rate with five stars, and select "Write a Review." Then be sure to let us know what you loved most about this episode or the entire show.
Also, if you haven't done so already, subscribe to the podcast. Subscribe now!
Episode Links:
Angelcare AC420 Baby Monitor
Lisa Beres

This episode of healthy home hacks is sponsored by the building biology Institute to learn more about creating indoor environments that support health and wellness visit their free resources at building biology institute.org How would you like to improve your health and keep your family safe? Your listening to the healthy home hacks podcast where we firmly believe enjoying optimal health shouldn't be a luxury. healthy home authorities and husband and wife team Ron and Lisa will help you create a home environment that will level up your health. It's time to hear from the experts. listen in on honest conversations and gain the best tips and advice. If you're ready to dive in and improve your well being and increase your energy you're in the right place. Alright, here are your hosts biologists authors, media darlings, vicarious vegans and avocado aficionados. Ron and belissa Barris

Ron Beres

Now you might be listening to this podcast from your car or maybe you're on the treadmill. But if you're listening from your phone or from a laptop, you may want to create some distance. Because I have a question for you. What is invisible? silent, odorless, tasteless, but dangerous?

The answer

radio frequency radiation from your mobile phone from your wireless mouse or wireless keyboard, mobile phone even your God baby monitor.

Lisa Beres

Yeah, and you guys. While that may seem scary, there is light at the end of this dark tech tunnel. Today we have Liz Menkes is with us. Liz is a professional EMF consultant in the San Francisco Bay Area. She is a fellow certified building biology environmental consultant and a certified electromagnetic radiation specialist. You've probably never heard of that. She's gonna tell you about what that is in a minute. Liz has been doing EMF home and office assessment since 2011. Liz is the owner and founder of emf healthy.com. So you can visit her there. Welcome to the podcast. Liz. We're so happy

Liz Menkes

you're here. Thank you. Thank you for having me. Absolutely.

Lisa Beres

You know what, let's let's just dive right in. Okay, so let's start with the first question. Can you tell us the most serious wireless issues? I know people listening are just wondering what is going on in their home? What can they do right away? And what are the things that you find in the majority of homes that you test?

Liz Menkes

Okay, so most people think that it's the cell tower, that is the biggest source of exposure, but I find that probably 95% of the time, the biggest exposures are from the devices in people's own homes. So before I talk about those devices, let me just give you a number that you can remember

Lisa Beres

you So we can quantify this, right?

Liz Menkes

And so the building biology extreme concern is over 1000 microwatts per meter squared. So just remember 1000 extreme concern.

Lisa Beres

Okay. And for you guys listening, Liz goes into people's homes with her fancy gadgets and equipment, and she measures this. So you can't see it. You can't smell it, you can't taste it. But this is the number that she's telling us is the danger level that most of us are living with and well beyond, I'm assuming

Liz Menkes

if you are listening to this on a Wi Fi enabled computer or a Wi Fi enabled laptop, and I would typically measure that where your body would be at about 20,000 to 70,000 microwatts per meter squared

Ron Beres

or so how much greater than 1000 so you are getting fried when you're listening,

Liz Menkes

right? Yes. And think about people who all day long are sitting at that computer and getting that kind of exposures. Why

Ron Beres

are you staring at us when you say that joking?

You're right. It's crazy how much radiation you're experiencing?

Lisa Beres

Yeah. And then people wonder why they're so literally zapped by the end of the day. I mean, you hear people say that all the time I feel so zapped you know, I feel so drained. Yeah. don't have the energy to go to the gym or the grocery store because you've been sitting in front of that all day. Yeah. So would you say, wireless devices, your laptop, your cell phone? Anything else that stands out?

Liz Menkes

Yeah, so the wireless router is a really big one too. And so just depending where it's located, how close it is to you. But let's say it's three feet away from you at your desk. And depending on the power of that particular wireless router, you could be getting an extra 70,000. from that. I've measured one just the other day that was over a million. And it was only three feet away from this person where this person was sitting.

Lisa Beres

Wow, that must have been a massive improvement when they change I'm assuming that's gonna

Ron Beres

get to a million. That's

Liz Menkes

crazy that some routers are just more powerful than others. And it seems that the newer the router, the more powerful it is and right. And also some of the providers are their routers that they give to clients are very powerful as well. Mm hmm.

Lisa Beres

Wow. All right. And I know, I know you're gonna, I'm assuming you're going to talk about this, but cordless phones,

Liz Menkes

and that one's kind of a sneaker, because people have no idea that that cordless phone is a very powerful source of radio frequency radiation. And it's the base station. And what I mean by that is it's the part of the phone that has the answering machine, the features on and it's not

Lisa Beres

not the part you pick up and walk around the house, but the actual base where you house it,

Liz Menkes

yeah. So if you have an extension, that one's not emitting, other than when you use it. But the base station is constantly sending out a really strong signal.

Ron Beres

It's basically saying call me call me I'm here. I'm here. Yeah, that was one of the first things that we did to when we started in biology was to remove those from our home. And they were they were everywhere. I think we went five at the time on every level or the biggest emitter. Yeah, this is a good, good opportunity. So like right now we're hearing numbers, we're hearing 70,000 1 million. Yeah. Wouldn't it be great right now, if we had something called an RF detector analyzer that gives often noise when it's next to a mobile device that's giving off high radiation? Well, the great news is we do so we actually, we have

Lisa Beres

like, we're just giving up a noise. It's literally picking up the signal, and we're going to hear what our body actually feels.

Ron Beres

That's right. Because with the phone, when we put it on airplane mode, when you get into this too, it actually lessens the RF radiation that we're experiencing. So we're going to give you a little sound test. And by the way, this device that's coming in here, and thank you, Oram Miller, who's a colleague of Liz and another expert, welcome, Oram. Welcome, welcome, welcome Oram. We want to hear what it sounds like when we just have our playing our phone on airplane mode and we switch it.

Lisa Beres

So this is just an airplane mode we're getting No,

Oram Miller

well, there is a background level of RF from the router in your neighbor on the other side of the wall. But we'll go ahead and take that out of airplane mode.

Ron Beres

And it takes a little while for it to read.

Lisa Beres

And that's not even making a call. That's just my phone on

Oram Miller

Well what it's doing. You've had it in airplane mode for last 10 minutes is reconnecting with the cell tower and getting updates download. And that was about 1000 micro watts for me to square but I agree with Liz I've seen hundreds of thousands of micro watts from these devices.

Lisa Beres

I just downgraded to 3g because I was on the 4g and so I'm sure we would have had a much higher reading had I

Ron Beres

yeah, well very good. Well let's let's get an idea of a sound you know want that sound? Because that sounds subjective that your body's being subjected to these environmental radiation. And we're all let's face it, somebody's conductive, right. And so we're taking on that resonance. Liz, what's a good alternative? Like a baby monitor, for example? Oh,

Liz Menkes

great question. baby monitors are actually very powerful. They can be like a router, and it's right there in the baby's room. And so there is a baby monitor that I measured, and it is a low radiation monitor. And it truly is low. It only gives off a strong signal when the baby cries, and it's an angel care. And the model is for 20. And so for people who need to have a baby monitor, it's a great solution. And the other alternative is literally just to use your ears if you just get rid of that baby monitor,

Lisa Beres

like in the old days, right? To listen for your baby. Ready to cry? You didn't have all these devices? Right? Yeah, I think that we have become so codependent on our devices with not just baby monitors but shoving kids in front of their tablets and yeah, you know, as a babysitting device. And so that's a great point. Like, do you really need it? We survived a long time without all of this hundreds of

Liz Menkes

thousands. You know, people raised their children,

Lisa Beres

their children survived. And today we've got I mean, the diseases that have been increasing with autism and yeah, allergies and autoimmune disorders and all of these learning disabilities and, you know, correlating with the increase of all these wireless devices is no coincidence. Tell me what you suggest to people who are currently using Wi Fi in their home or office. They want to get rid of it. They want to go hard wired, but maybe they're running into a snafu with their wireless provider, whether it be Cox or roboter, infinity or contest.

Liz Menkes

So we we say that there's good better Best. And we also tell people that any reduction in exposures is worth doing. So something that people can do immediately is unplug your router at night. That will make a huge difference. And then the step after that would be and it varies by provider. And the equipment can be different. But in general, if people get a separate modem, and router, then they can have more control. And the modem is the device that were the internet connection comes in so they have one hard wired internet connection. They have their cable and possibly their phone in this modem. The router gives them typically four more ports for hard wiring, plus it gives them the Wi Fi, okay, so they have separate modem and router. They can control the wireless and for example, the Netgear routers have a real easy on off button, so that they can switch the Wi Fi on and off when they want to. So that's the router that I'll typically recommend, if they want to use Wi Fi on occasion.

Ron Beres

That's good enough to put you on the spot. How much would a router like that typically cost on average, the ballpark?

Liz Menkes

Maybe you can get routers for $50 or $100. Easily,

Lisa Beres

right, but they go up depending on the quality, but you're saying the newer ones, potentially are posing more risk? Yeah. Or if you've got an old one, it's working. Probably better to stick with it. Yeah, we were talking earlier before the podcast and how you really kind of with a lot of things in life and your health, you have to be your own detective and you've got to take things into your own hands. And if your provider your internet provider says hey, we don't have what you need. Well, then you go out and you find it and you find a building biologist near you who can assess your home and help you do that.

Liz Menkes

And the provider can generally tell you what separate mode modems are compatible with their service. So there tech support can give you that information. Make sure to stay tuned for part two with Liz monkeys as she discusses how you can save yourself from the wireless hazards in your home. If you want to learn more, take classes and learn how you can help and be a voice in your community for change, visit www. Building biology institute.org

Narrarator

this episode of the healthy home hacks podcast has ended. But be sure to subscribe for more healthy living strategies and tactics to help you create the healthy home you've always dreamed up. And don't forget to rate and review so we can continue to bring you the best content. See you on the next episode.

Sign up to receive email updates

Enter your name and email address below and I'll send you periodic updates about the podcast.