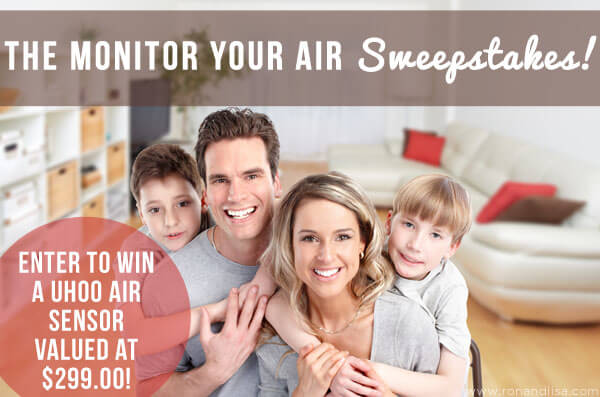 ENTER FOR A
CHANCE TO WIN!
1 Winner will receive a uHoo Indoor Air Sensor
Total Value $299.00
in the…
Monitor Your Air
Sweepstakes!
Breathe. Fresh. Air.
Did you know the EPA (Environmental Protection Agency) has deemed indoor air quality one of the top five environmental health risks the United States faces today? How'd you like to prevent asthma, flus and allergies? Or, have the peace of mind knowing exactly what you and your loved ones are breathing in and learning when to air out or clean your home? Sounds impossible? We thought so to.
Until.
We discovered uHoo.
It's as Easy as 1, 2, 3!
uHoo is an indoor air home sensor that monitors and tracks everything for you (so you don't have to). It's beautifully designed, user-friendly, and simple-to-use. Plus, set up is fast and easy; as simple as one, two, three!
1.) Plug-in uHoo device
2.) Connect to Wi-Fi
3.) You're done
uHoo differentiates itself as the defender for those who suffer from respiratory illness. ~Iris Leung, Forbes
Protect Your Family
At work or traveling, but concerned about your kids, spouse or pets at home? No problem. With uHoo, you can check in on carbon dioxide, dust, temperature, humidity, carbon monoxide and airborne chemical levels at home from anywhere you are via an app on your phone. See real-time and historical information at any moment.
Empower Yourself
uHoo learns your habits and preferences for an effortless experience. You'll receive recommendations on products you use and what to do in your home to prevent respiratory conditions and skin allergies. uHoo provide actionable solutions to living the life you deserve!
Stay Healthy. Breathe Easier
How uHoo Works:

uHoo isn't just cute…it's smart. By analyzing the past, uHoo observes the present and can help you predict the future. See how your habits and activities affect your home and health via these uHoo built-in sensors:
TEMPERATURE
Sudden changes of too hot or too cold from what is comfortable.
CARBON DIOXIDE
Can cause insufficient levels of oxygen.
PARTICULATE MATTER
Come from spot particles such as dust and pollen.
CARBON MONOXIDE (CO)
Dangerous, odorless poison that comes from improperly burning fuels, oils, and smoke.
HUMIDITY
Can cause mold in your home and moisture loss or irregularities with your skin.
AIRBORNE CHEMICALS
Come from everyday products such as cleaners and paint.
AIR PRESSURE
Changing weather conditions can cause headaches.
OZONE
Can be caused by air purifiers and outdoor conditions and result in sore or irritated throats.
uHoo is truly revolutionary and it's designed by people who care. They believe in the right to live a healthy life. In the right to breathe clean air (and so do we!). Will you be the *lucky* winner of your very own uHoo home indoor air sensor valued at $299.00? Enter daily for a chance to WIN and share this page with a friend, loved one – or anyone – that could benefit from a breathing safer, cleaner air at home.
How to Enter:
For every action below that you complete, you receive a specific number of entries. Click each individual action to enter yourself. For actions you have done in the past (i.e. you are already a fan of uHooair on Facebook) just click directly on 'I did this'. The eligibility of the winner will be verified by The Healthy Home Dream Team®.
There is no mandatory entry. Each action will earn different numbers of entries into the contest. You may Tweet or share on Facebook or Google+ for an entry once per day. All other actions will only be counted once. Sweepstakes open to US and Canadian residents age 18 and over. Prize will be delivered during first quarter of 2016. Contest ends 1/9/16 at 12:15am PST.