WIN an ARCONA Men's Starter Kit &

Women's Basic Five Package in the
His & Hers…
Healthy Skin.
Healthy You.
Sweepstakes!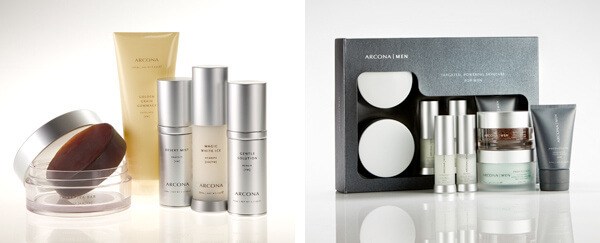 ENTER TO WIN!
A top of the line Arcona

Men's Skincare Kit

&

Women's Basic Five Package
Valued at $
300.00!!
Would you like to Pamper Yourself, Your Skin and Your Mate?  Diamonds may be a girl's best friend, but we all know that true sparkle comes from your personal glow; not the ring on your finger!  If you have read our book Just GREEN It!  Simple Swaps to Save the Planet & Your Health, then you are already familiar with our recommendation of Arcona skincare products in our Resources Guide.  I (Lisa) have been using this line for years and am, what you might call, an Arcona groupie (minus the provocative behavior and tour buses).  I first discovered Arcona during a local spa treatment.  Most of us can relate to the experience of paying for an expensive facial treatment and oversold but under delivered products; only to find your skin has returned to its dull, dry or blah state days later (refer to 3rd bullet below).  Not in this case.  I can 100% vouch that my experience with the Arcona skincare line was quite the contrary.  My skin instantly felt and looked brighter and clearer…every time I used it!  And, results from most of the products are cumulative; meaning they build up and work better each time you use them!   The Basic Five Travel Package is how I began. It's an affordable travel kit size (with an adorable travel pouch) so you can test it out for yourself.  I promise you – seeing is believing when it comes to the results!  Whether you choose the toner bar; one of the oh, so fabulous exfoliating facial scrubs; the anti-aging treatments such as the Gentle Solution; hydrators like the Magic White Ice; the Bronzer (one of my summer must-have's) or even their Alchemy Hair & Scalp products – which won't have you gagging for a breath of air- you'll be the envy of your friends and family (that is…until you share your secret with them).
This is exactly what I did!  I had to tell my number one rock star about the amazing textures, smells and of course…results!  Your typical guy who prefers a one step method of personal care, Ron absolutely became a believer after trying the Men's Starter Kit for himself.  Ladies – can you say Valentine's gift idea?? Arcona makes it so easy for the man in your life with their easy to use applications and instructions
Did you know Arcona:

Uses only the finest quality, all natural ingredients in products that penetrate deep into the cellular layers of the skin to effect real change, resulting in glowing, healthy skin at any age.
Is dedicated to offering the highest quality, most effective skin care for both home and professional use. Enzymatic-based ingredients in ARCONA products include high concentrations of antioxidants, plant lipids and extracts, sea vegetables, essential oils, vitamins and minerals. Our ingredients are processed and products manufactured according to state-of-the-art, chirally correct technology.
Products do not contain petrochemicals, binders or fillers, chemical stabilizers, parabens, sodium lauryl sulphates, perfumes, dyes, or any other caustic, toxic ingredients. There is no scientific evidence that such additives support more than a brief, cosmetic change in the skin, and there is proof that these substances clog the pores and block the restoration of healthy, balanced skin.
WIN an Arcona Skincare Kit & Women's Basic Five Package!   Life, after all, is about being comfortable in your own skin.  That's a little impossible if you are dousing yourself with harsh synthetic chemicals & preservatives, fragrances and other toxic ingredients each day!  What are you waiting for?  Enter today and everyday until 3/2/12.  Don't you think it's time to shine your glowing skin from the inside out? "Color, fragrance and consistency don't change your skin, but live, active ingredients do." ~Arcona (ARV $300.00)
How to Enter:
For every action below that you complete, you receive a specific number of entries.  Click each individual action to enter yourself. For actions you have done in the past (i.e. you already follow @ARCONA_LA or @RonandLisa on Twitter) just click directly on 'I did this'. The eligibility of the winner will be verified by The Healthy Home Dream Team(TM).
There is no mandatory entry. Each action will earn different numbers of entries into the contest. You may tweet or share on your Facebook wall for an entry once per day. All other actions will only be counted once. You must be 18 or older with a US address to win. Contest ends 3/2/12 at 12:01am ET. Click here for complete terms and conditions.

a Rafflecopter giveaway