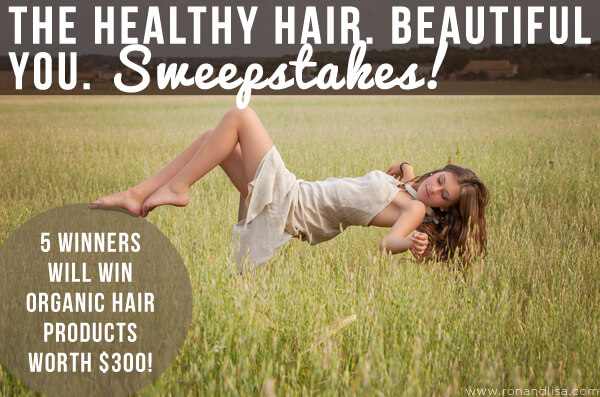 ENTER FOR A
CHANCE TO WIN!
5 Winners Will Receive the Following Valued Over $60.00/ea:
Total Value Over $300.00
in the…
Healthy Hair.
Beautiful You.
Sweepstakes!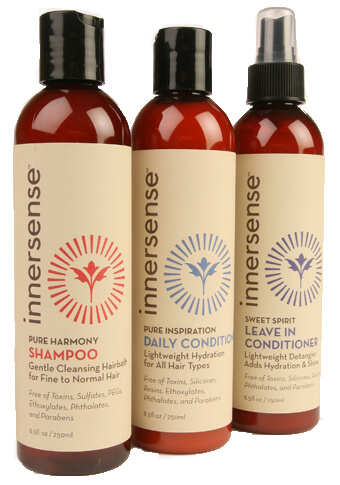 Think Dirty
Ladies – On average, women use a whopping 12 products per day (men use 6) containing 168 unique chemicals. That's exposure to 61,300 mystery ingredients into your body every year! So, it goes without saying, when it comes to beauty products, we loOove zeros. And, by that we mean a toxicity rating of zero – the ultimate personal care accolade. If you aren't already familiar with the Think Dirty app for your Smartphone, get familiar. It's a must-have 'cuz finding healthy hair (and personal care) products can be challenging; especially, when brands try to sway you with greenwashing tactics, marketing spins and fancy wordsmithing.
It's What's on the Inside that Counts
The Think Dirty app does the hard work for you. Just scan in your product and find out if the product is in fact toxic-free, organic and healthy. Watch now:
Pure. Organic. Toxin-Free.
Our friends at Innersence™ Organic Beauty are the real deal (but, don't just take our word for it). Scan their products for yourself and witness the plethora of zero ratings for yourself. You'll find everything you need to tame your mane. Enjoy the divine essential oil scents sans the guilt, as you spray, spritz, squirt, slather and smooth your gorgeous locks!
All Innersense™ Organic Beauty products are crafted from certified organic and biodynamic plant extracts, rich in emollient oils and nutrients to produce beautiful volume and shine. All products are free of manmade synthetics, petro-chemical, sulfates, parabens, artificial fragrances and are gluten-free.
The company's founders are a husband/wife team (just like us!), and stand by the integrity of their products. They work with local farmers who employ long-standing practices that produce ingredients in the most eco-sensitive way possible. Innersense™ Organic Beauty's company culture is a reflection of their personal values.  With a mission statement like this: To inspire, nurture, and connect with one's own inner beauty…through organic and wellness principles that promote healthy choices and sustainability….what's not to love?!
As you travel through your life's journey, remember…always trust your inner sense. ~Founders, Joanne & Gregg Starkman
Did You Know Innersense™ Beauty Products are Free of Harsh Irritating Chemicals including: 
Artificial Color and Fragrance— Proven to be the most prevalent sensitizers (cause of allergic reactions or chemical sensitivities) in cosmetic preparations.

DEA, MEA, TEA, or MIPA Compounds — These are synthetic surfactants used in soaps and many shampoos. These ingredients are allergenic, and may also be contaminated with nitrosamines, a potent class of carcinogens. They're on the FDA's list of suspected carcinogens.
Formaldehyde — A suspected carcinogen, this colorless, pungent, irritating substance is found in many preservatives, such as quaternium-15, the hydantoins and ureas, and surfactants such as sodium lauryl sulfate.
Hydrolyzed Animal Protein — Innersense products do not contain any animal by-products and were not tested on animals.
1,4 Dioxane
Imidazolidinyl and Diazolidinyl Urea — These commonly used preservatives are antiseptic and deodorizing. They have been established by the American Academy of Dermatology to be primary causes of contact dermatitis (causing adverse reactions such as rashes that can be quite severe). Keep clear of the eye area, as it is an eye irritant.
Lanolin —Cosmetic-grade lanolin can be contaminated with carcinogenic pesticides such as DDT, dieldrin, and lindane, in addition to other neurotoxic pesticides.
Methylchloroisothiazolinone and Methylisothiazolinone — Sensitizers, these are known to cause allergies.
PEG-8 (polyethylene glycol) — This synthetic detergent is on the FDA's list of suspected carcinogens, and according to the FDA is "highly allergenic."
PEG compounds — These synthetic plant glycols are used as binders, solvents, emollients, plasticizers, bases, carriers, emulsifiers and dispersants. They cause many allergic reactions. PEG compounds may contain the carcinogenic contaminant, Dioxane.
Petrochemicals — Made from petroleum or "crude oil", petrochemicals include some of the most hazardous substances ever made.
Phthalates (tha-lates)— Chemicals used to add flexibility and dissolve other ingredients in; they can be absorbed through the skin or inhaled and have been linked to birth defects in the male reproductive system.
Propylene Glycol — A neurotoxin, this petroleum-derived humectant, surfactant, solvent, and carrier that is known to cause contact dermatitis along with a wide variety of allergic reactions.
Quaternary Ammonium Compounds — A wide variety of these caustic ammonium compounds are used in cosmetics, especially hair conditioners. Over the long run they dry the scalp and hair and make the hair brittle. They're also allergenic and pollute the environment.
Sulfate-based products — Sulfates are used in the manufacture of synthetic soaps, detergents, emollient creams and shampoos (like sodium lauryl and laureth sulfate). Sulfates are harmful to marine life and the environment. They can cause allergic reactions and dry skin and hair. They are also an eye irritant.
Paraben — A non-irritating food-grade preservative used to control microbial growth in cosmetic preparations.
Purified Water — De-ionized, it is essential that water used in cosmetic preparations is sterile to avoid contamination of the product. This ingredient is a know carcinogen with links to health issues.
GMO's, & Gluten
Will you be one of the lucky 5 winners? Enter daily for a chance to WIN and please share this page a friend or loved one who could benefit switching to pure, organic and toxic-free hair & body products!
How to Enter:
For every action below that you complete, you receive a specific number of entries. Click each individual action to enter yourself. For actions you have done in the past (i.e. you are already a fan of Innersense™ Organic Beauty on Facebook) just click directly on 'I did this'. The eligibility of the winner will be verified by The Healthy Home Dream Team®.
There is no mandatory entry. Each action will earn different numbers of entries into the contest. You may Tweet or share on Facebook or Google+ for an entry once per day. All other actions will only be counted once. Sweepstakes open to US and Canadian residents age 18 and over. Contest ends 8/22/15 at 12:15am ET.