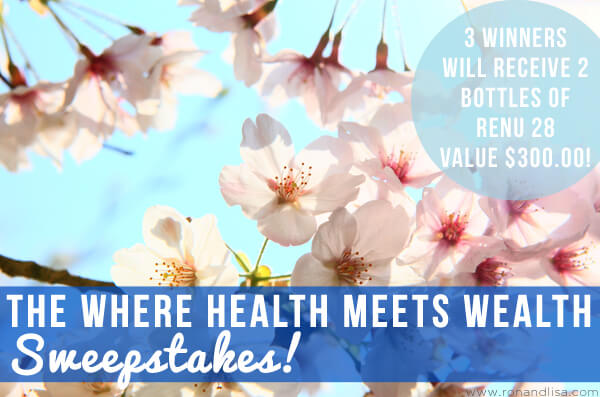 ENTER FOR A
CHANCE TO WIN!
3 Winners Will Receive the Following valued at $100.00/ea:
Total Value $300.00!
in the…
Where Health Meets
Wealth
Sweepstakes!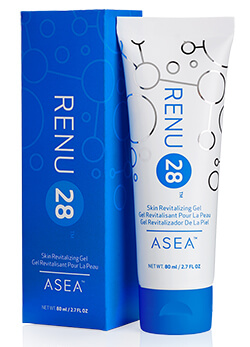 Healthy Skin from the Outside In
In our quest for healthier looking skin – let's face it – we're bombarded with an endless sea of products to swim through, from the affordable to the expensive, from the toxic to the superficial. All claim to offer a healthier appearance. But, how many of them really do what they claim? How many truly help your skin not only look healthier – but actually BE healthier?
Ron and I have been using a new product that we are super excited to share with you. After conducting a toxicity report on EWG's Skin Deep Database, we're thrilled to report it came in with a hazard score of zero! We've been using it daily and can attest – if you want clean, clear and healthy skin – you need something that impacts your skin all the way down to the cellular level, where skin health begins.
RENU 28's patented redox signaling technology has been shown to make visible differences in skin by actually making skin cells healthier. There's nothing else like it on the market.
The best part? With the advanced technology in RENU 28's patented process, you might expect a steep price tag. RENU 28 doesn't have one.
RENU 28
RENU 28 is a topical delivery system that supports and revitalizes your skin using Redox Signaling technology. This innovative product cares for your body from the outside in, giving you healthy and youthful-looking skin. Take a minute to watch the RENU 28 Benefits video below and discover how RENU 28 can get you looking and feeling younger (and um, who doesn't want that?)!
Join ASEA™ with Triple Diamond Deni Robinson, ASEA™ Independent Associate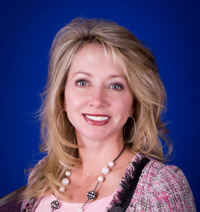 ASEA™ empowers its associates to believe in a life-changing product, to belong to an organization driven by principles, and most importantly to become better people, professionally and personally. Whether you need a bit of additional income to cover a house payment or are looking to be self-employed, ASEA™ can get you where you want to be. You can customize your experience with ASEA™ to fit your health and financial needs with Deni Robinson, ASEA™ Independent Associate.
Financial Freedom is when your decisions aren't based on "do we have enough money"? But also, "Do we have enough time?"  People have time and no money, or money and no time.  It's when you can create that balance that THAT'S really FREEDOM! You can start to build an incredible business working right out of your home. It's going to take focus. It's going to take effort, but its so worth it.  Just don't quit – It's worth it!! ~Deni Robinson
Did You Know? Renu 28:
Increases blood flow in the skin
Promotes youthful looking skin
Reduces the appearance of fine lines and wrinkles
Increases hydration
Increases smoothness of skin
Stimulates skin cell renewal and turnover
Will you be one of the lucky 3 winners? Enter daily for a chance to WIN and please share this page a friend or loved one who could benefit from looking AND feeling younger?
How to Enter:
For every action below that you complete, you receive a specific number of entries. Click each individual action to enter yourself. For actions you have done in the past (i.e. you are already a fan of Deni Robinson, ASEA™ Independent Associate, on Facebook) just click directly on 'I did this'. The eligibility of the winner will be verified by The Healthy Home Dream Team®.
There is no mandatory entry. Each action will earn different numbers of entries into the contest. You may Tweet or share on Facebook or Google+ for an entry once per day. All other actions will only be counted once. Sweepstakes open to US and Canadian residents age 18 and over. Contest ends 10/3/15 at 12:15am ET.