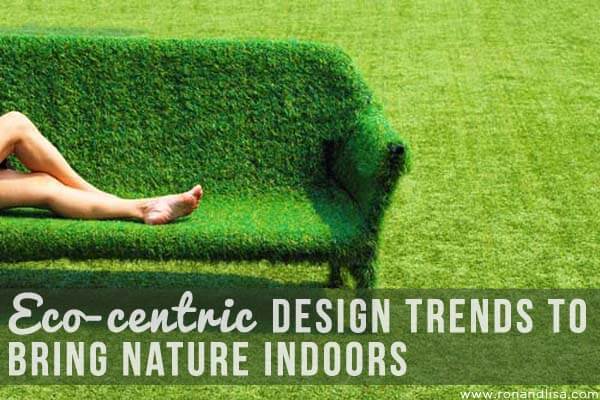 When your home needs a pick me up, turn to the great outdoors for inspiration. Mimic the bountiful freshness of nature by incorporating pure elements into your home decor. Whether you're countryside or city bound, organic and eco-friendly products can turn your home into a health haven. From lighting and accents to walls and decor, green products help improve your well-being and your relationship with Mother Earth. Embrace nature with sustainable indoor decor that promotes a fresh take on design.
Lighting
Proper illumination is necessary to your home's ambiance. Consider light fixtures focused on eco-centric design that add interest to your space while remaining conscious of the environment. Today's energy efficient lighting combines earth-friendly elements with luxurious decor. Couture interior design experts like Mio give new meaning to sustainable creations. For example, their Bendant Lamp chandelier, composed of steel alloy, is made of 40 percent recycled content. Powder coating is a durable, low volatile organic compound (VOC) finish. Once the paint is cured on the surface, no particles will be emitted into the air. The lamp sizes, shapes and cuts are mindfully crafted to promote efficiency in manufacturing, packing and shipping.
Accents
Not your college dorm room, but kinda like your college dorm room. Think hemp, wicker and jute only sans Grateful Dead posters and hanging bead curtains. Combining organic and natural materials in your home doesn't mean bohemian-laden textiles. Here's how you can incorporate a modern take on eco-friendly accents.
Bedding
Sleep tight, don't let the pesticides bite. The Organic Trade Association reveals about 25 percent of the world's insecticide use and more than 10 percent of the world's pesticide goes to cotton crops. When you lay your head to rest, consider making the switch to organic cotton sheets and duvets. Retailers like Wayfair offer organic bedding options that are free of harsh chemicals and dyes while remaining chic.
Flooring
You wouldn't walk barefoot on piles of harmful chemicals, so why roll them out in your own home? The World Floor Covering Association states over 90 percent of all the carpets and most machine-made rugs are made of petroleum-based synthetic fiber, which can off-gas VOCs. Instead, opt for natural fiber rugs made from biodegradable and renewable resources, like jute, wool or bamboo.
Photo by Pbroks13 via Wikimedia Commons
Windows
Window coverings naturally assist in the greening the home as a main agent in reducing UV transmission while blocking heat loss and gain. Companies like Bali take it a step further with their Springs Window collections. By using high-recycling facilities to manufacture products, their designs are geared to help create healthier, more energy-efficient homes. Crafted from renewable resources like bamboo, sisal, grass, jute and wood, these shades provide a cozy and fresh feel to any home.
Walls
Your home surroundings could be the main source of harmful VOC emissions in your home. Before you pick up that paint brush, consider your options for wall dressings. Look for paint selections like the Natura Waterborne Interior Paint by Benjamin Moore that contains no VOC's. Best of all, you won't be burdened with the potent "fresh paint" smell as low VOC paints are virtually odorless. For those looking to add interest beyond a coat of paint, consider natural wall coverings that make excellent conversation pieces in your decor. Accent walls composed of reclaimed wood panels, cork or ceramic tiles that are excellent eco-friendly options fit for design-minded homeowners.