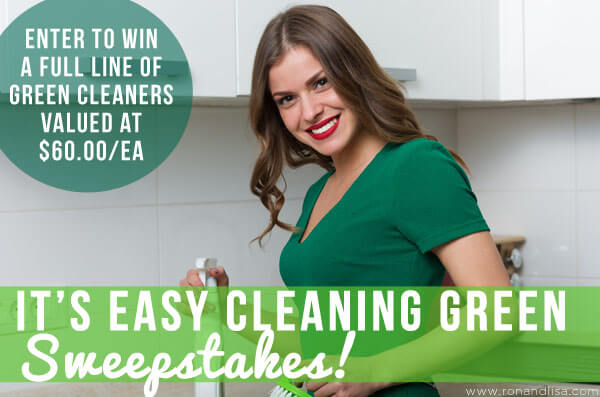 ENTER FOR A
CHANCE TO WIN!
2 Winners Will Win a Full line of Frosch Cleaning Products Valued at $60/ea
Total Value $120.00
in the…
It's Easy Cleaning Green
Sweepstakes!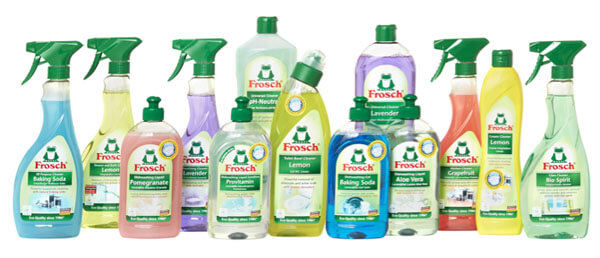 Being Green Wasn't Easy. It is Now.
Introducing Germany's Most Trusted Household Cleaning Brand for 14 years running (2001-2105 by Reader's Digest), Frosch. Frosch has a loyal following in many export countries around the world, but has never been available in the U.S.A.
Until
Now.
The Nine Points That Make Frosch Green:
1.) Natural ingredients
2.) Vegetable origin
3.) Skin friendliness
4.) No damaging chemicals
5.) Recyclable materials
6.) Respect for animals
7.) Energy-conscious production
8.) Company water treatment plant
9.) 25 years of experience
Cleaning with Meaning
Frosch uses only plant-based surfactants. Unlike other brands, Frosch seeks to minimize the use of surfactants from tropical sources. When necessary, Frosch purchases only RSPO-certified Palm Kernel Oil. Tropical surfactant production has led to significant rain forest degradation in countries like Indonesia and also leads to a larger carbon footprint as raw materials have to travel long distances to production facilities.
Packaging for the Planet (and People)
Frosch uses a large percentage of recycled material in their packaging (minimum of 80%) with a recyclability of 100%. Frosch products are not tested on animals. Frosch has partnered with the WWF and NABU on various conservation initiatives.
Just Say No!
Frosch products do NOT contain the following ingredients:
Phosphates: Phosphates are powerful and comparably low-priced components that are still used in many cleaning and detergent products. They generally boost product performance. Phosphates accelerate the growth of water plants (Eutrophication) which leads to a lack of oxygen in aquatic environments.
Borates: Borates are used as a very cheap part of bleach systems that are used in fabric and machine dishwashing detergents. After the new EU Classification, borates are classified as T (poisonous) / R 60, R61 (can disturb the reproduction ability and may damage the child in the womb).
Formaldehyde: Formaldehyde is a very efficient and cheap preservative that is still often used in many products. There are concerns about the long term health effects of Formaldehyde.
NTA (Nitrolotriacetat): NTA is a component that improves the performance of cleaning agents and detergents. Its main task is to reduce the water hardness in order to improve cleaning performance. It is also used as a stabilizer. There are concerns about the long term health effects of NTA.
EDTA (Ethylendiamintetraacetat): EDTA is a very cheap component with similar properties as NTA. EDTA biodegrades poorly and can remobilize heavy metals in waters.
PVC: PVC is a cheap packaging material. When PVC is incinerated, toxic organic chlor compound, salt acid and other dangerous components are created.
Did You Know?
Frosch, voted Germany's "Most Trusted Brand" (Reader's Digest) for 14 years running, is excited to now offer their household green cleaning products to eco-conscious consumers in the United States.
Frosch uses natural ingredients, combined with renewable and high biodegradability surfactants to create tough cleaners that are gentle on the environment.
Proving that "green cleaning without compromise" is possible, Frosch competes against harsh chemical cleaners in terms of effectiveness – using only natural ingredients.
Frosch's 9 Points of ecological quality include: natural ingredients, vegetable origin, skin friendliness, no damaging chemicals, recyclable materials, respects animals, energy-conscious production, company water treatment plant, and 25 years of experience.
Not one, but TWO lucky RonandLisa.com readers will win a complete supply of Frosch household cleaners to scrub and scour your home green in 2016. Will you be the *lucky* winner valued at $60.00? Enter daily for a chance to WIN and share this page with a friend, loved one – or anyone – that could benefit from a ditching their toxic cleaners in favor of greener household cleaners!
How to Enter:
For every action below that you complete, you receive a specific number of entries.  Click each individual action to enter yourself. For actions you have done in the past (i.e. you are already a fan of Frosch on Facebook) just click directly on 'I did this'. The eligibility of the winner will be verified by The Healthy Home Dream Team®.
There is no mandatory entry. Each action will earn different numbers of entries into the contest. You may Tweet or share on Facebook or Google+ for an entry once per day. All other actions will only be counted once. Sweepstakes open to US residents age 18 and over. Contest ends 2/6/16 at 12:15am PST.