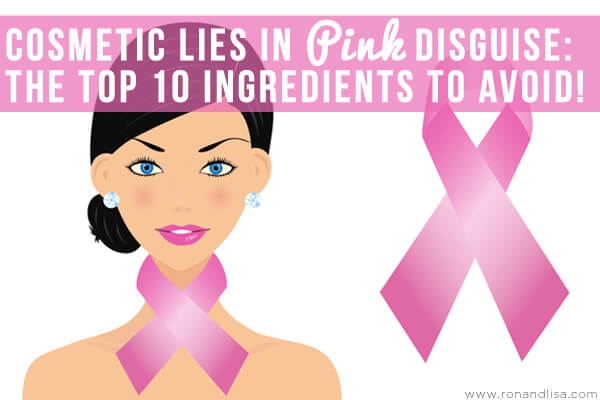 It's October which is synonymous with National Breast Cancer Awareness. We've discussed Pinkwashing here before (Pinkwashing: A Growing Concern) and this time, chemist and industry expert, David Pollock, is releasing a warning regarding "pinkwashing" practices common in the beauty industry. The term pinkwashing refers to the sale of items that contain ingredients that are known carcinogens, while marketing these products in support of breast cancer awareness. While these companies generally do indeed practice fundraising according to their marketing statements, they may actually be contributing to the development of this disease with the product itself.
"Most skin care products actually do contain ingredients that are known carcinogens. Just to put things in perspective, in Europe 1,100 ingredients are regulated or banned from skin care products. In the U.S., only 11 ingredients are regulated in skin care. And up to 60 percent of these harmful ingredients used in skin care products can be absorbed into your body. ~David Pollock
The Top 10 Ingredients to Avoid in Food & Beauty Products:
1.   PARABENS—including Methylparaben, Ethylparaben, Propylparaben, Benzylparaben, Butylparaben
2.   PEG's & GLYCOLS—including Polyethylene Glycol (PEG), Butylene Glycol, Propylene Glycol, etc.
3.   LAURYL/LAURETH SULFATES—including Sodium Lauryl Sulfate, Ammonium Lauryl Sulfate, Sodium Laureth Sulfate, Ammonium Laureth Sulfate
4.   PETROCHEMICALS—including Mineral Oil, Petrolatum, Light Liquid Paraffin, Petroleum Distillate, Mineral Jelly, Petroleum Jelly
5.   SYNTHETIC FRAGRANCE—a cocktail of potentially 100's of chemicals
6.   SYNTHETIC DYES- Synthetic colors derived from coal tar (ie: Yellow #5, Blue #1, and Red #40)
7.   TRIEHTANOLAMINE—often listed as TEA.  Can react with other chemicals in cosmetics to form carcinogenic nitrosamines.
8.   TRICOLSAN—a popular anti-microbial agent for hand washes and sanitizers
9.   PHTHALATES—a plasticizer used to make a number of cosmetic ingredients often found in lipsticks, nail polishes, fragrances and hair sprays
10. 1,4 DIOXANE—a contaminant formed as a byproduct during manufacturing of detergents, foaming agents, emulsifiers and solvents – what's worse is that it is NOT required to be listed on the ingredient statement, but can be found in ingredients listed as PEG, Polyehtylene, Polyethylene Glycol, Polyoxyethylene or anything ending with "-eth" or in "-oxynol"
Additional information regarding David Pollock's advice for "Safe Beauty" can be found in his book Just Stop the Lies: Secrets the Beauty Industry Doesn't Want You to Know.
Guest blogger, David Pollock, is a beauty innovation veteran with more than 20 years of experience formulating products for some of the most recognized names in the industry. He has been honored by Global Cosmetics in their roster of "20 To Know." He is a published author and an experienced radio guest speaker—reaching more than 16 million listeners and countless more via his regular contributions to online publications, such as Yahoo.com, Dr. Oz and Oprah's ShareCare.com, DrLaura.com, Wellness.com, and his own "Beauty Inside Out—With David Pollock" on RadioMD and online publication JustAskDavid.com.