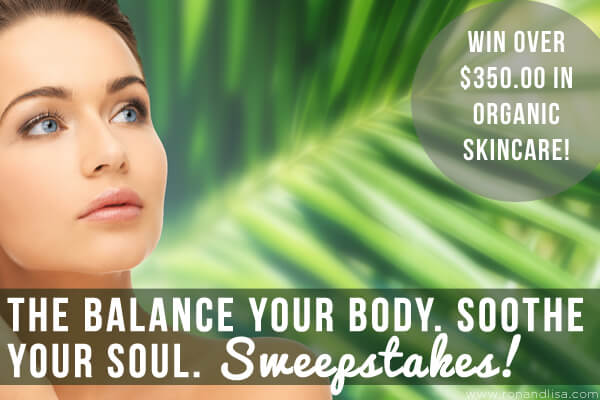 ENTER TO WIN!
Balanced Guru
A Custom Certified Organic Skincare Gift Basket including:

7 Energy Mists + wooden base, 1 Ageless Serum, 1 Hair Oil (choose from 3), 1 Scalp Treatment (choose from 3), choose between Soothe Me Slowly or Balm Me Up, 1 Toner (choose from 3), 1 Body Scrub (choose from 2)
Valued $350.00!!
in the…
Balance Your Body.
Soothe Your Soul.
Sweepstakes!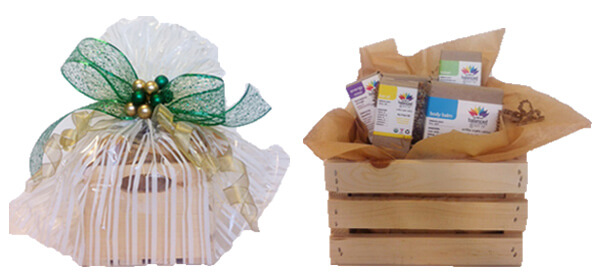 Forget Calgon…take me away Balanced Guru! You had us at:
Certified Organic + Cruelty Free + Recycled Packaging!
We've tried a TON of skin products – some that live up to their hype – and others, well, let's just say greenwashing overload. But, not the folks at Balanced Guru. We are so in loOoOve with this skincare line. It is…divine! I am basking in the 100% essential oil natural scents that fill the room each time I spritz or rub the products on my face or body and am reminded how nature (not chemical laboratories) always does it right.
I, personally, have been using the Ageless serum and feel like Benjamin Button! No, really! If you see me…let me know if I am truly aging backwards 'cuz my skin sure thinks so (and yours will, too). OMG, it's like silky butter that nourishes your skin from within. Add to this the No-Frizz serum (not that I evvvver have this issue…wink, wink. Puhleez don't ask anyone to show you my 80's perm days. This product soo would have come in handy then). But, back to the good stuff. Our friends at the Environmental Working Group (EWG) and Women's Voices of the Earth have spilled the beans on the TOXIC EFFECTS of hair straightening treatments (and yes, they name (brand) names). Would you like a splash of FORMALDEHYDE on your scalp? I didn't think so, but that's what you get. Don't believe me? Check it out HERE). So, the peeps at Balanced Guru know this and have YOU and your HEALTH in mind. They created a product to tame the frizz without, oh – you know…cancer causing chemicals! Imagine. I have been using this (along with the Scalp Detox – oooh, la, la) and can attest its silky smooth; not too heavy and works better than the over-hyped Moroccan oil (blah) – for a lot less $$$. Plus, every purchase you make with Balanced Guru helps others! Giving back is part of their mission. 100% of profits from their Collected Warriors and SEVA Amazon lines including their Antioxidant Masque, the Hair Styling Oil and the Soothing Body Oil as well as the Rainforest Body Balm (yum), the Rainforest Body Oil or the Rainforest Body Scrub are donated in collaboration with Off the Mat Into the World. It's a win-win! Protect the planet. Save your health!
Their promise to us:
To offer only certified organic choices of skin care, hair care, spa, and aromatherapy, formulated based on ancient eastern wisdom and modern scientific research. Although we know you are already beautiful, we hope you find in our products a way to maintain and nourish your beauty inside and outside. ~Balanced Guru
Did I mention they're a family owned and operated business (just like us)! I know that makes me feel good knowing I get that personal attention we all crave – and deserve! Their mission is to facilitate a balance between your inner and outer beauty. And, they've created a product line where you will be able to balance your mind, body, and spirit.
Tweet: Beauty & health starts from within, thus, we believe in simultaneously nurturing body, mind + spirit in everything we do. ~Balanced Guru
Who Likes Freebies?!
We do, we do! And, we know you do, too! Guess what? Balanced Guru does as well. That's why they offer a FREE travel size of a product you'd like to try with each order (get out!). It true. No minimum purchase either. I'm. In. Love.
Speaking of love, you gots to check out their energy collection! O to the M to the G! With oils and mist such as Guilt-Free, Intuition, Fearless and Empowering you'll never need another therapy session again. Pack these in your purse, place near your bedside or gift one to your angry boss. You will fall head over heels at these certified organic essential oil blends.
Did You Know?
Start on your path to Certified Organic Wellness with Balanced Guru.
All products are made to the USDA Certified Organic standard, which means that over 95% of the ingredients are active organic ingredients and the remaining ingredients are from a very select list.
All of the products are made to a food standard, because anything that goes on the skin should be good enough to go into the body.
Beauty and health start from within, thus, they believe in simultaneously nurturing body, mind and spirit in everything they do.
One lucky winner will get the chance to customize their very own gift basket based on their personal preferences (see top for choices) valued over $350.00! Will it be you? Enter daily + pretty please share this page with a loved one, or someone you care about. Remember, karma people…karma!
How to Enter:
For every action below that you complete, you receive a specific number of entries. Click each individual action to enter yourself. For actions you have done in the past (i.e. you are already a fan of Balanced Guru or RonandLisaTheHealthyHomeDreamTeam on Facebook) just click directly on 'I did this'. The eligibility of the winner will be verified by The Healthy Home Dream Team®.
There is no mandatory entry. Each action will earn different numbers of entries into the contest. You may Tweet or share on Pinterest, Google+ or your Facebook wall for an entry once per day. All other actions will only be counted once. You must be 18 or older and reside in the United States or Canada address to win. Contest ends 7/5/14 at 12:01am ET. Click here for complete terms and conditions.