By guest blogger, Megan Wild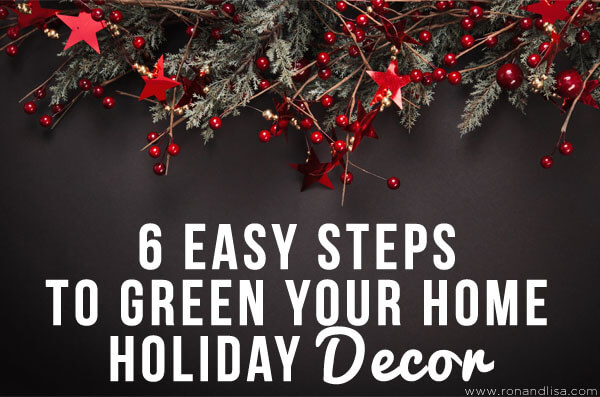 For many of us, the holiday season is a time of abundance; we eat to excess, indulge in gift-giving and deck the halls…and the walls. While reveling in the holiday spirit, reducing waste and staying eco-focused are often far from our minds. However, with a few easy steps, you can celebrate to your hearts content while still taking care of the environment. Here's how to get started:
1.) LIGHTEN UP ON TOXINS
Before you bring those old Christmas lights (that can potentially contain lead and PVC) out from storage, consider newer LED lights. LED bulbs last longer, use less energy and present less of a fire hazard than traditional incandescent bulbs. LED lights also require fewer power sources, so you can plug more lights into a single run and still dramatically reduce your electricity use.
If you're partial to candles, there are eco-friendly options here, too. For example, you can switch to soy based candles rather than paraffin candles. Soy candles last longer, burn cleaner and are nontoxic. Also, be sure to avoid any candles with toxic synthetic fragrance.
2.) TAKE THE PARTY OUTDOORS
Decorating outside can be done in a few simple ways. In addition to solar pathway lighting, you can make edible decor using ribbon or string to hang your decorations – such as a bird feeder.
If you have mild winters, consider entertaining outside to enjoy the weather and fresh air. Repurpose an old piece (that would otherwise be thrown away) into reclaimed outdoor furniture. The wobbly dining room chairs you have can be repurposed into a great bench after being sanded and painted. Just remember: For safety, you should always wear protective eye gear when working with wood.
3.) GREEN YOUR TREE
Most Christmas trees are destined to end up in a landfill after the holidays are over. Luckily, there are several alternatives to prevent your tree from this fate. For example, buying balled trees to be replanted after the holidays is a great way to reuse a tree and protect the environment. To replant your tree, buy close to Christmas time and plant as soon as the holiday is over. Or, if you live in California, you can rent a tree HERE. Depending on placement, trees can also add value to your property.
You can also purchase trees from local tree farms that have been grown organically and use them to make mulch once their time is up. Some areas even have curbside pickup where trees will be taken to be repurposed as mulch. Check Earth911 to find a recycling center near you.
4.) GO NATURAL
What better way to decorate sustainably than by using items found in nature? Pinecones and buckeyes make great holiday displays and can be found in most areas. Repurpose old jars as vases and fill them with pinecones and other items from nature, such as branches. Don't forget to add fresh cranberries for the ultimate holiday look. Kick your jars up a notch by adding a clear coat of glitter for a little extra glam.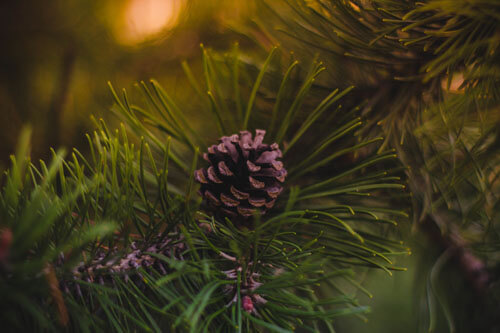 5.) REUSE WHAT YOU HAVE
One of the best ways to reduce waste around the holidays is by using what you already have. While some of your ornaments may be worn, that doesn't mean you should toss 'em. Revive old ornaments with a coat of paint (low or zero VOC) –or- put them in a hurricane glass to create a colorful and festive display.
If repainting doesn't sound ideal to you, or if you just want a bit more flair, coat ornaments with clear glue. Next, douse them in glitter to create the sparkle factor. You can also take Christmas cards you've received and clip them to strands of light to create decor with a more personal touch.
6.) GO THRIFTING
If what you have at home doesn't suit your needs, then head to your local thrift store. Many stores have gently worn decor and artificial trees. Since these have already been used, there's no packaging waste to worry about and you'll save your newfound treasures from ending up in a landfill. It's a win-win situation for your wallet and the planet.
Staying green for the holidays provides a gift for everyone. Earth is the home we all share. Every step you take towards being green makes our planet a safer and happier place to be. By following these simple tips, you'll have a home that feels warm and inviting – without breaking the bank or producing loads of unnecessary waste. So what are you waiting for? Grab some supplies and start creating green decor that's sure to impress…for less!
Guest blogger, Megan Wild, is writer who loves to try to make the world better, one step at a time. You can find more of her green ideas and tips at Your Wild Home.