By Chef Mark Cleveland of Avanti Natural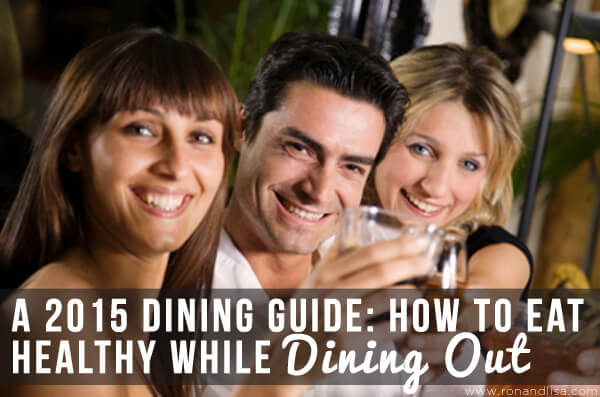 As social animals, we love to chomp, chew, sip, savor and sample new cuisines and flavors at the latest social hot spots. But, we often hear how eating out can be hazardous to our health. Many restaurants cut corners with cheap, genetically modified produce and ingredients including fats that can cause inflammation and exacerbate auto immune responses such as joint pain. However, armed with a bit of knowledge, you can make better choices in restaurants while still splurging occasionally on a few guilty pleasures.
With the start of each New Year, the goal should be to assess where you are in you healthy lifestyle routine and make efforts to move in a more positive direction. Drastic changes don't work well since they leave us feeling deprived. A more positive, success driven tactic, is to commit to gradual improvements in your behavior and choices. If, for example, you'd like to cut down on your caffeine or soda consumption, substitute an apple, pear or orange for every other soda you drink. Soon, you'll lose the cravings for the unnatural flavors and develop a taste for more natural selections.
Healthy Tips for Dining Out
Avanti has put together a wallet sized printable .pdf and phone friendly fact sheet to take with you when you visit restaurants to help make ordering bit more healthful. Choose the right grains, healthier fats, and make eco friendly choices when it comes to seafood, eggs, dairy and meats. We've also included a few restaurant insider pointers on how to be a gracious and always a welcome guest when you visiting new or favorite eateries.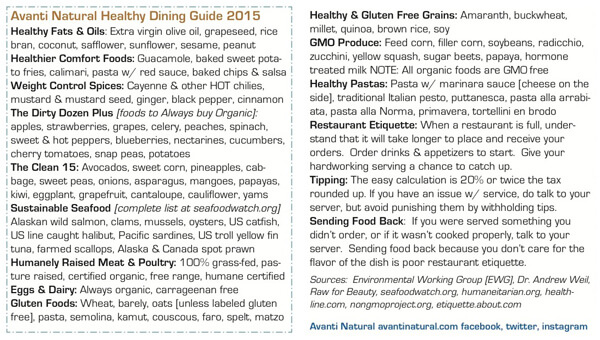 Remember, if you aren't a vegan or vegetarian, it's a great idea for your personal health and for the good of the planet to have several meatless meals each week. Meatless Monday is a great way to begin. Soon wholesome choices will become menu items you'll actually look forward to eating. Healthy food tastes great makes your body feel clean and energized.
Click below to print the pdf of the Avanti 2015 Healthy Dining Guide.

Cut along the dotted lines, fold, and slide into your wallet. Alternatively, print the above images directly in your phone and reference it when you sit down to order.
Itadakimashyo = Let's Eat Well [Japanese]