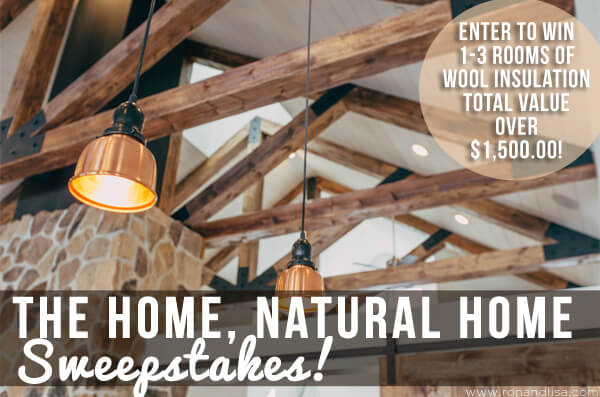 Baah baah. When you think of wool, what's the first thing that comes to mind? Sheep? Home insulation? Probably not the latter…until now.
Keeping the indoor climate inside your home at a comfortable level is vital. The right insulation should reduce heat loss, keeping your monthly heating costs low. But, while cozy temperatures and reduced bills are a good thing, they shouldn't come at the expense of your health or the environment.

The Toxic Truth of Standard Home Insulation
While the Pink Panther is cute, the sight of pink fiberglass insulation is not. Glass wool or fiberglass is a synthetic, low integrity fiber that is just plain unhealthy to have in your home. Simply put, why breathe shards of glass if you don't have to?
Many experts claim the health issues caused by fiberglass are just as bad as asbestos due to the tiny, sharp particles of fiberglass that can break away into the air and embed in your skin, eyes, and lungs; creating small abrasions that cause irritation. Um, no thank you! Additionally, petroleum-based chemicals are commonly used in traditional fiberglass insulation product binders. In fact, formaldehyde, a cancer-causing chemical, has been known to be released in potentially dangerous levels by fiberglass batting insulation. Unfortunately, more than 90% of homes in the United States are lined with fiberglass insulation today.
You may have heard of other mediums such as mineral wool, cotton, or glass wool insulation. However, these options cannot measure up to the capabilities of 100% natural sheep wool insulation. In fact, most other wool alternatives are often emitting harmful chemicals and/or adversely affecting indoor air quality.
What Makes Wool the Ideal Insulation?
If you are an avid RonandLisa.com reader, then you're well aware of the beneficial aspects of wool, including its inherent dust mite resistance and natural flame retardant qualities. In fact, we highly recommend wool in your upholstery and mattresses in lieu of toxic flame retardant chemicals. It's also great for linens because wool naturally wicks away moisture; many people use wool moisture pads for the elderly or babies.
Wool is such a wonderful, natural product that it's often associated with keeping us warm in the winter and cool in the summer, so it should come as no surprise that wool insulation is the ideal natural and nontoxic choice to insulate your home with. As sheep have adapted to severe climatic environments for thousands of years, their wool has evolved to offer protection from the elements of each season – hot and cold; damp and dry. Plus, wool insulation is easier to install because it doesn't require advanced techniques or machinery and can be used on different shapes and sizes.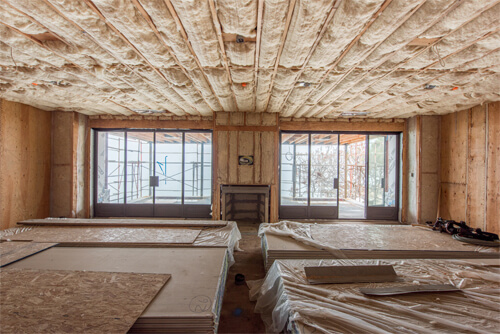 Due to the inherent structure, wool traps air, moisture and harmful chemicals to improve air quality, while keeping warmth inside during winter and outside over the summer months.
A wool fiber is resilient and elastic; it can be bent on itself over 20,000 times, yielding a longer life than most fibers
The scaled structure allows for absorption and retention of airborne dust
The helical nature lends to enhanced sound absorption
Volatile chemicals, such as formaldehyde, are naturally consumed from the atmosphere and retained
Wool's principal component, keratin, makes it biodegradable
Meet Havelock Wool
If you're seeking a healthier lifestyle and home environment for you or your family, you've come to the right place. Havelock Wool offers batt and blow-in insulation with R values of 3.6 per inch and 4.3 per inch respectively. In layman's terms, the 'R' equates to the resistance to heat flow. The higher the insulation R-value, the greater the insulating power (and lowering of your bills). Havelock's wool insulation R-values are equal to or often surpass those of non-wool insulation. The extreme high integrity of a wool fiber allows it to outperform the synthetic competition with an exponentially decreased environmental impact.
For superior insulation in the cavity, Havelock Wool insulation actively manages moisture, while not being adversely affected. Wool fibers inherently absorb and desorb moisture against 65% relative humidity.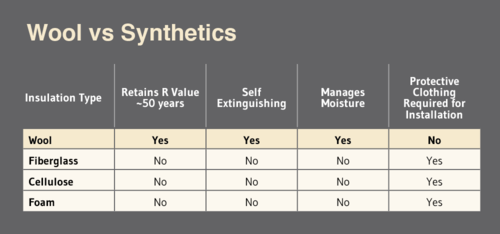 Creating a Healthier Home with Havelock Wool

Did You Know? The Benefits of Wool Insulation:

All Natural – Wool insulation is entirely renewable and sustainable
Moisture Control – Wool naturally manages moisture levels against 65% relative humidity
Fire Resistant – Wool is inherently known to extinguish after smoldering
Long Lasting – Extensive useful life
No Harmful Chemicals – Natural characteristics allow our insulation to be devoid of harmful chemicals
Noise Reduction – Wool creates acoustic advantages in minimizing airborne sound
Disposal – Wool insulation can be composted at the end of an extended useful life
Installation – Blow-in and batts are installed like other mediums but with no protection required

So, while counting your home's insulation costs, remember to count sheep; not to help you get some more Zzz's. Rather, by incorporating nontoxic, biodegradable, all-natural wool into your walls, you'll be reducing your carbon footprint and the chemical exposures in your home.
Everyone's a Winner
One of you will be our grand prize winner, but the truth is – you're all winners! Thanks to Havelock and their partner at Greenhome Solutions, you can save 10% of your Havelock Wool insulation order using code: bedroomiaq at checkout. Coupon expires 11/20/17.
Enter for a Chance to Win!
Who's ready to live in a more natural home? One lucky winner will receive: Havelock Wool Insulation for 1-3 bedrooms (ARV $1,500.00) and a Microbiome Gift Box from Microbiome Plus (ARV $150.00)! That's a total value of $1,650.00!! Will it be you? Enter NOW & be sure to tell a friend, family member or loved one who could benefit from a healthier & happier home. Sweepstakes ends 11/20/17.