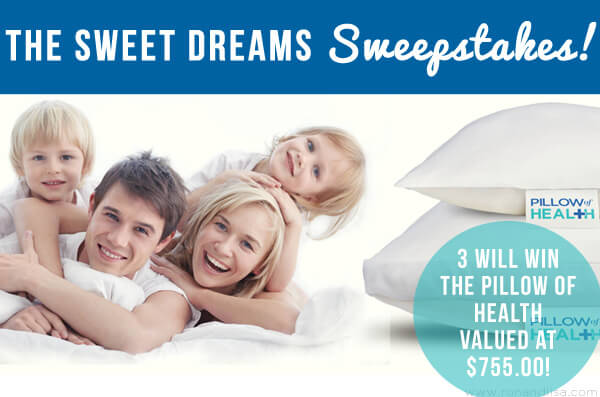 Struggling with Your Sleep?
If so, you're not alone. You've heard of adjustable beds, but what about adjustable pillows? After all, we're all uniquely designed with specific needs and desires for comfort. If you're ready to sleep healthy, look healthy and live healthy, then you'll love the Pillow of Health®; an innovative, premium quality adjustable pillow that has a zipper opening on the side to allow users to add or remove the medical grade filling to achieve the desired level of comfort and support. The Pillow of Health® is customizable; designed to provide the most restful and comfortable sleep of your life. Its adjustable design and high-quality materials make it one of the most luxurious pillows available today. Quality sleep can also benefit your immune system, heart, weight and mind.
The Pillow of Health® is moldable and extremely flexible, so it conforms to the position of your head for comfort. This foam retains its strength and memory much longer than traditional foam, showing no signs of hardening, softening or losing its shape during extensive endurance testing. It's also certified to be one of the healthiest foams available to the public, made without mercury, lead, formaldehyde and other toxic chemicals. And, oh yeah – for every kid's pillow purchased, the company donates a pillow to a child with cancer.

What the Pillow of Health Isn't
Pillow of Health® products have earned the CertiPUR-US® seal where it is tested and certified to meet specific criteria for physical performance, indoor emissions and environmental stewardship. CertiPUR-US® certified foams are low-VOC emission materials (for improved indoor air quality), and contain no:
formaldehyde
mercury/lead/heavy metals
PBDEs
ozone depleters
prohibited phthalates
The environmentally innovative foam is emissions-tested, and durability-tested, and also contains no chlorofluorocarbons (CFCs).
"Our customers have purchased Pillow of Health® products to help them experience a more restful night's sleep and they also want peace of mind that our products are safe, comfortable and environmentally responsible. The CertiPUR-US® designation puts us in an elite class of manufacturers that are offering products that contain foam that has cleared the most rigorous and comprehensive international guidelines for foam." ~Angelo Rukel, Vice President of JBT Specialty Products
What the Pillow of Health Is
The Pillow of Health® is antimicrobial, hypoallergenic, dust mite resistant and machine washable and dryable. Why is this important?  Due to warm temperatures and moisture released during sleep, your pillow becomes a perfect breeding ground for dust mites, bacteria, germs and fungi to thrive. A study from the University of Manchester study revealed the average pillow can contain millions of fungal spores, with four to 16 different species per pillow. Plus, your nose is in direct contact with your pillow for hours each night. The main cause of allergies upon waking up is dust mites and their fecal matter, plus other toxins, in your pillow — after 12 months of use, 20-30% of your pillow could be simply toxins (eww!). The foam in the Pillow of Health® is naturally resistant to mold, mildew, fungi, vermin, and dust mites due to its high-density cell structure. It is antimicrobial, hypoallergenic, and most importantly, machine safe for washing and drying.

Try before you buy. There's no need for buyer's remorse here. The peeps at Pillow of Health® offer a 30-day in-home sleep trial, and a Limited Lifetime Warranty on manufacturing and/or material defects of your originally purchased PILLOW of HEALTH. Because they use the finest quality materials and meticulously manufacture in the USA, your pillow is made to last. If for any reason within the first 30 days of receiving your originally purchased PILLOW of HEALTH Customizable Pillow, you are not completely satisfied, they guarantee a full refund of your purchase price! Learn more.
Don't Take Our Word for It!
Watch now to see for yourself what makes this pillow so, well – cool!
Did You Know? The Pillow of Health is:

Customizable (Queen Pillows only)
100% washer/dryer safe
40x cooler
Hypoallergenic
Made in USA
Moisture Wicking Cover Keeps You Cool and Dry

The outer layer is constructed from the most TECHNOLOGICALLY ADVANCED MOISTURE WICKING FABRIC available to keep you cool and dry. This fabric is 40X MORE BREATHABLE THAN OTHER PILLOW FABRIC providing a cooler and more comfortable temperature all night long, resulting in a better night's rest. Shop now for the perfect self-adjusting pillow size from Twin, Queen, King, Kids or the Warm & Cool Travel Pillow in your favorite color.
Everyone's a Winner!
Use the special coupon code: PILLOWHEALTHRL to receive 20% off your cart total, plus  FREE shipping (not combinable with other coupon codes, only valid on cart totals of $49.95 or higher.)! This coupon code can be used during the sweepstakes and expires Dec. 31st of 2017. Shop now & SAVE!
Enter for a Chance to Win!
Who's ready to win 1st place: 2 Queen Customizable Pillows (with 2 extra bags of fill), 2 Kids Pillows (any color) & 4 Travel Pillows (any color) – Value: $397.70; 2nd place: 2 Queen Customizable Pillows (with 2 extra bags of fill) & 2 Travel Pillows (any color) – Value: $237.90 or 3rd place: 1 Queen Customizable Pillow (with 1 extra bag of fill) & 1 Travel Pillow (any color) – Value: $118.95? This is a total ARV of $755.00. Will it be you? Enter now & be sure to tell a friend, family member or loved one who could benefit.