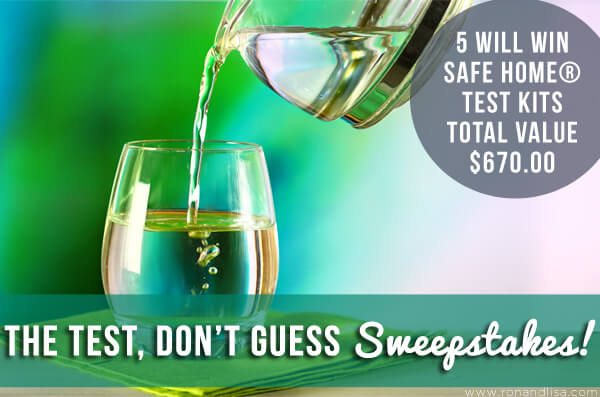 We need it to survive. Our bodies are comprised of 70 percent of it and our brains 85 percent. We (hopefully) drink eight glasses of it a day. It is our elixir for optimal health, well-being and hydration. It is…
Water.
But, what happens when the water you ingest daily is loaded with cancer causing chemicals, heavy metals like lead and arsenic, bacteria and biological and chemical contaminants, including pharmaceutical drugs? Suddenly, that healing elixir becomes a hazard to our health.
Toxic Tap Water
The scientists at the Environmental Working Group (EWG) have created a Tap Water Database consisting of America's drinking water quality with data from almost 50,000 municipal water companies nationwide. This database is a compilation of 28 million water records, serving all 50 states. The results? Shocking!
EWG scientists found that most Americans who rely on unfiltered, untested drinking water are ingesting deadly doses of industrial and agricultural contaminants linked to everything from cancer, nervous system and brain damage to hormonal disruption and developmental defects.
Just because its legal, doesn't mean it's safe, according to the EWG scientists. In fact, they observed 250 chemicals including a staggering 81 percent of water systems that had contaminants linked to cancer! Additionally, they discovered 19,000 water systems contained levels of lead that are harmful to children. Watch now:
Lax Legislation in Water Contaminants
These scientists found 160 contaminates with absolutely zero safety levels set by the federal government. In fact, the Associated Press reported that pharmaceutical drugs were found in city water supplies via independent testing across the United States. View this map to see if you are one of the 46 million Americans who are affected by trace concentrations of pharmaceutical drugs in their water. These drugs arrive by households dumping unused drugs down the toilet or drain and healthcare facilities who dispose of an estimated of 250 million pounds of unused drugs each year.

Protect Your Family
So now you know the 'dirty truth.' It ain't pretty, but the good news is – there are solutions – starting with the knowledge of what's in your drinking water. To check your own city water by zip code, click HERE. But, this EWG database is only part of the picture because, in order to make informed decisions about the safety of your drinking water, you need information and which comes from testing the water in your home. To protect your family members from poor water supplies or contaminants being leached from the home's plumbing fixtures, you MUST test your drinking water. Introducing the Safe Home® test kits from EnviroTestKits®. You can now make a difference in the health and well-being of your family. In many cases you will be extending your family member's lives and in some cases, you may be actually saving their lives and in some cases, you may be actually saving their lives by testing, not guessing!
TEST, Don't GUESS!
With multiple EnviroTestKits to choose from you can select the a.) do-it-yourself version that tests for bacteria in your water for as little as $14.95. Or, you can use the b.) Safe Home® Pro which includes EPA certified laboratory testing for contaminates and bacteria, while also testing for metals, in-organics, organics and physical properties. Finally, you can choose the Safe Home® EPA certified laboratory testing for contaminates and DIY bacteria as well as metals, physical properties and organics. Or, you might just want the lead only test. With so many options to choose from, you can select the perfect test kit at the price that matches your budget. Safe Home® Drinking Water Test Kits are designed for the general public and can test for 1 to 200 contaminants in your drinking water.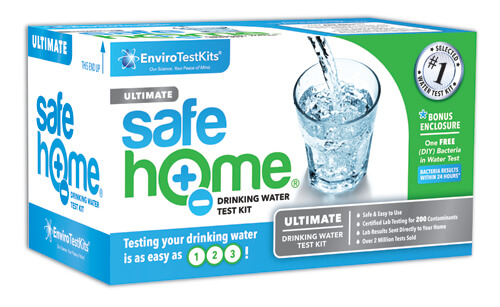 How the Safe Home® Test Kits work 

Safe Home® Lab Certified Testing for Multiple
Contaminants (covers Lead, Basic, Select,
Premium & Ultimate test kits):
Safe Home® Do It Yourself Testing for
Bacteria in Drinking Water (covers the
FREE DIY Bacteria in Water Test Kit that is
included with each of the above test kits)

Don't take our word for it. The Safe Home® test kits were recognized at one of the Top 9 New Products (out of more than 1,000,000 SKU's at the 2017 National Hardware Show)! Now, FIVE lucky RonandLisa.com winners will receive: Safe Home® Drinking Water Test Kits and Certified Lab Testing w/Free Shipping – a Total Value $670.00. Enter NOW for a chance to win through August 28, 2017 and please share with a friend or loved one who could benefit from drinking healthy, pure and clean water.