What Are You Breathing In?
Are you breathing in dirty air? The Environmental Protection Agency (EPA), the World Health Organization (WHO) and the American Lung Association think so. And, we're not just talking about the outdoor air, but the air in your home and office. Studies reveal six out of ten Americans – a whopping 186.1 million people — live in areas where air pollution levels endanger lives. Nearly every major U.S. city is still burdened by significant amounts of air pollution. But, going indoors for relief may not be the answer in your current home.
Health Effects from Dirty Air
Future generations are becoming increasingly aware of how air pollution affects quality of life, and according to the WHO (World Health Organization), 7 million people are dying prematurely because of air pollution. With that in mind our need to breathe clean, healthy, safe air is imperative today. There are many reasons, primarily the fact that our homes and businesses are being built more and more energy efficient, which means they are tightly sealed, reducing the fresh air exchange. According to the EPA, health effects from indoor air pollutants may be experienced soon after exposure or, possibly, years later. Immediate effects may show up after a single exposure or repeated exposures. These include:
irritation of the eyes, nose and throat
headaches
dizziness
fatigue
Such immediate effects are usually short-term and treatable. Sometimes the treatment is simply eliminating the person's exposure to the source of the pollution, if it can be identified. Symptoms of some diseases, including:
asthma
hypersensitivity pneumonitis
humidifier fever
may also show up soon after exposure to some indoor air pollutants.

HVAC (heating, ventilation and cooling) systems keep our homes comfortable, however, re-circulated air can -and does- contain anything that is brought into the building, which infectious pathogens, bacteria, viruses, and VOC's (cleaning supplies and aerosol spray products are a few VOC's).
HEPA Filters Aren't Enough
High Efficiency Particulate Air (HEPA) filters have been standard in hospital and clinic ventilation systems to control airborne pathogens for more than 50 years, which is considered the best filtration, but multiple studies have demonstrated that despite the presence of HEPA filters, viral and bacterial contamination is still found in these ventilation systems. Very few residential HVAC systems have or are designed to use HEPA grade filters. Because of this, The American Lung Association's assessment of indoor air quality in our homes should be considered polluted, creating "sick building syndrome" or "sick home syndrome".
Cleaning Supplies and Household Chemicals
According to the American Lung Association, household and cleaning products, including soaps, polishes, and grooming products, often contain harmful chemicals.
VOC's (Volatile Organic Compounds) and other chemicals released when using cleaning products contribute to chronic respiratory problems, allergic reactions, headaches, and eye irritation. Studies link exposure to chemicals from cleaning supplies to occupational Asthma and other respiratory illnesses. Products that contain VOC's and other substances can include:
Aerosol Spray Products, including health, beauty and cleaning products
Air Fresheners
Chlorine Bleach
Detergent and Dishwashing Liquid
Dry Cleaning Chemicals
Rug and Upholstery Cleaners
Furniture and Floor Polish
Oven Cleaners
Children Are at the Greatest Risk
There is an increase of respiratory problems in children. The largest portion of a child's lungs will grow after they are born. 80% of their tiny air sacs develop after birth. The lungs and their alveoli aren't fully grown until children become adults. In addition, the body's defenses that help adults fight off infections are still developing in young bodies. Children have more respiratory infections than adults, which seems to increase susceptibility to air pollution. It stands to reason that if their IAQ is toxic, the chances for serious respiratory issues can occur. Children with certain respiratory issues like asthma, can lose a whole grade in school because of breathing issues related to asthma.
The Solution: Create Air Like Mother Nature Intended 
Meet Pure Aire Wellness. Pure Aire Wellness can provide clean, healthy, safe, disinfected air to everyone, no matter the size of the home or building. Through research conducted by Sanuvox Technologies, the only company with patents on their UV system, this unit can eliminate infectious pathogens such as bacteria, viruses and mold up to 99.9999%. Tests performed at McGill University in Toronto and published in The Lancet Medical Journal, found by using UV purifiers from Sanuvox Technologies, only on the air conditioning coils in the test building, that overall sickness was reduced by 20%, respiratory symptoms up to 40% and resulted in a 99% reduction of microbial and endotoxin concentrations on all irradiated surfaces within the ventilation system.

Air Filtration Isn't Air Purification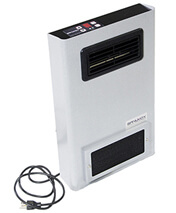 This technology, in simple terms, brings to us the same wonderful cleansing solution that Mother Nature provides, for us to breathe the fresh, healthy outdoor air. The result of using this technology in our homes or work places is that we breathe exceptionally clean air. This same natural solution also kills bacteria, infectious pathogens, mold, viruses and VOC's, which allows us to breathe healthy air. Pure Aire Wellness is here to provide this incredible technology, which brings clean, healthy, safe air, into any indoor building, no matter the size. The P900GX Portable UV Sterilization unit has a disinfecting capability of 900 square feet. It's ideal for anyone in need of a cost effective home air purification solution, or for those who don't have a forced air home system – and we're giving one away!

How it Works
Hydroxyls have been called "Mother Nature's Broom" because of their cleaning abilities. Pure Aire Wellness, along with the technology provided by Sanuvox, can generate t hydroxyl UV combination to clean, purify, disinfect, any indoor air along with the surfaces they touch. Respiratory issues are triggered by certain toxins or VOC's, (volatile organic compounds) which are significantly reduced with Hydroxls.
Did You Know?
Sanuvox is the ONLY UV company that has patents on their lamps.
Sanuvox has extensive research proving their technology works in the way they claim it does.
AIR FILTRATION is not AIR PURIFICATION
Studies prove we can reduce the chances of serious respiratory issues and improve overall health, in all of our lives by using the technology provided by Sanuvox. These and other VOC's contribute to the toxicity in our homes and workplaces. Pure Aire Wellness with the UV technology that is provided by Sanuvox has the ability to eliminate the effects of VOC's in your home or workplace. Creating a cleaner, healthy environment to live or work in. This is the prime focus of Pure Aire Wellness.
Everyone's a Winner!
ONE LUCKY RONANDLISA READER will win a P900-GX PORTABLE UV STERILIZATION UNIT (ARV $995.00), which has a disinfecting capability of 900 square feet open to residents of the US & Canada.
We don't like to play favorites, so remember, even if you don't win, you're still a winner in our eyes. During and after the sweepstakes, if you are interested in purchasing an in-duct unit, or a portable unit for your home, simply enter the DISCOUNT code: AWRL and you'll receive a 10% discount and FREE shipping on your order. This code is valid for RonandLisa readers for 120 days after the sweepstakes.