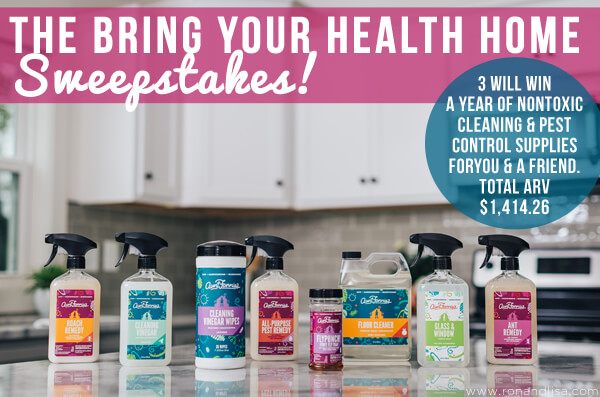 Spring cleaning as a season may be officially over, but you and I know ALL. TOO. WELL. it's never really over. Before you reach for those yellow latex rubber gloves and a hazmat suit, what if we told you there's a better, smarter and safer way to get a sparkling clean shine and rid your home of unwanted pests – without resorting to toxic chemicals? Introducing your new BFF. She's a protective relative, so to speak, she's transparent and she has your back, your floors, and even your countertops.
Meet Aunt Fannie's.
Aunt Fannie's is leading the next natural movement with food-grade, non-toxic, cleaning and pest control solutions made with pure whole, food-based ingredients that are evolutionarily-adapted and safe for human and skin contact, pets and keeping your home, body, and the environment healthier.
Made with 95% + whole, food-based ingredients, our products come as nature intended and are evolutionarily adapted to our bodies (think ancient grains or fermented foods). This provides a healthier and safer atmosphere, unlike plant-based/derived ingredients (used in other leading brands), whole ingredients aren't broken in a lab with manufacturers adding and subtracting whatever they like.
Awarded "A" ratings from the Environmental Working Group or, EWG, meaning it's a low concern to asthma/ respiratory, skin allergies and irritation, cancer, developmental and reproductive toxicity and the environment. Clorox, Mrs. Meyer's, Method, Seventh Generation, J.R. Watkins, etc. received C-D averages. So, ask yourself how safe is the natural cleaner you're using? Watch now:
Good news! We're offering you three chances to win your own healthy home bundle. Three Grand Prize Winners will receive a full year of Aunt Fannie's nontoxic cleaning + pest control supplies ($235.71/ea.) for themselves AND a loved one of their choosing. That's a total value of $1,414.26! Who's ready to win? Click below to enter now (and share with someone you care about):

Here's what's included in each bundle for you and a friend: A full year of nontoxic cleaning + pest control supplies:
The Aunt Fannie's Difference

Did you know, your microbiome is a secret key to your health (and happiness)! Aunt Fannie's products are made with microbiomic ingredients. Say whaaa? YEP! And, not only are these microbiomes in the cleaning products, turns out our bodies are covered in them – the good (ooooh) ones and the bad (ewww) variety. In fact, about 50 percent of our bodies and most of our homes are microbiomic (who knew?). So, it's only makes sense that we all want more goodness in and around us. Microbiomic health is key to overall health, especially our immunity, digestion and inflammation response. Scientists are finding links to obesity, depression and anxiety, autoimmune diseases, certain cancers and much more. Watch now:
Nondisruptive is the New Natural
Have you heard of the Hygiene Hypothesis? We didn't either until we met Aunt Fannie's. Germaphobes…put down the hand sanitizer down and listen up! We all want a clean, sparkling home – but, not at the price some manufacturers want you to pay. It's like saturating our homes with hazardous chemicals including synthetic fragrances, petrochemical propellants, chlorine bleach and ammonia linked to respiratory, hormone disruption and even cancer in the quest for a  cleaner home. But, that harmful pursuit for sanitization, has certainly taken a toll on our health. Basically, it's overwhelming that:
'Evidence that overcleaning has disrupted the natural order and the body's own systems.'
Guess what? We're offering you three chances to win! Three Grand Prize winners will receive a full year of Aunt Fannie's nontoxic cleaning + pest control supplies ($235.71/ea) for themselves AND a loved one of their choosing! That's a total value of $1,414.26! Who's ready to win? Click below to enter now:

What Products Does Aunt Fannie's Offer? 
Goodbye Plants, Hello Food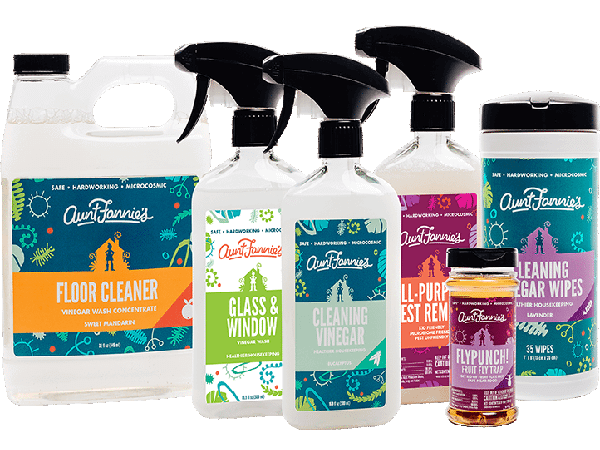 In the early days of the Aunt Fannie's founder and his son's numerous health struggles, Matt's family opted for what they thought was the best solution: plant-derived cleaning products. But as their son continued to struggle with autoimmune diseases, eczema and asthma, they realized change was needed, not just in diet, but in cleaning products. They realized that even plant-based products are manipulated in labs. Hence, Matt and his family began using whole, food-based ingredients to create cleaning solutions with the obvious notion that when we clean, we ultimately ingest, inhale and absorb these ingredients into our skin. Once this shift was made to replace synthesized plant ingredients with food-based ingredients, the last healthy puzzle piece to fall into place.
"If food can nourish our bodies, why can't it also nourish our homes?"
Shop & Save

Shop now to find Aunt Fannies store locations near you including a line of household and pest control solutions for a healthy family and a happy home. While there will only be three GRAND PRIZE winners, our friends at Aunt Fannie's are offering a super special and oh-so generous discount for RonandLisa readers to SAVE 20% off your total purchase. Just use code MICROBIOMIC HERE and get ready to scrub, sparkle and sigh a healthy breath of relief!
Did You Know? Aunt Fannie's Products & Ingredients are:
• Cruelty-free, never tested on animals
• Fully transparent – all ingredients are listed on the labels
• Recycled packaging
• Non-toxic for general health
• Safe for use around pets, pet areas, and surfaces with which pets typically come into contact
• Vinegar wipes are non-bleached and made from 100% biodegradable material
• Mosquito Wipes are DEET free and worry free!
Enter for a Chance to Win

We're offering you three chances to win! Three Grand Prize Winners will receive a full year of Aunt Fannie's nontoxic cleaning + pest control supplies ($235.71/ea) for themselves AND a loved one of their choosing! That's a total value of $1,414.26. Who's ready to win? Click below to enter now:

What Others Are Saying
Inspired by our founder's grandmother, Aunt Fannie is an homage to those who get it and get it done. The roll-up-your-sleeves type who takes on the unidentifiable, the post-party, the creepy crawly or the personal mess without fear. Or fumes. – Matt Franken, Founder
Last Call! Enter to Win
THREE Grand Prize Winners will win a full year of Aunt Fannie's nontoxi cleaning + pest control supplies ($235.71/ec) for three winners AND a loved one of their choosing! That's a total value of $1,414.26! Who's ready to win? Click below to enter now: