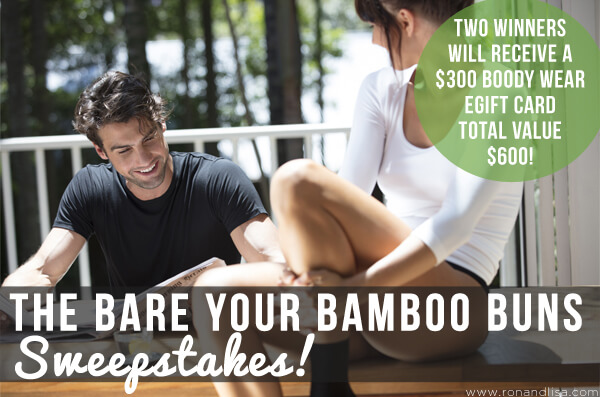 It often takes a series of small steps to make a difference in our own health and the betterment of the planet. These adaptions in our lifestyle, purchases and eating habits can add up in the long run. We all know to switch off our lights, recycle more and avoid single use plastic. But, some of us are less aware of the potential of what we wear.
While you made have heard of – or noshed on – bamboo, you may not realize that bamboo is a renewable resource. In fact, bamboo is the fastest growing woody plant in the world; some species growing over three feet in a single day! And, much like grass, bamboo does not require replanting. In fact, Bamboo can be continually re-harvested with no damage to the surrounding environment.
With seven billion people inhabiting the planet today, being consciously aware of our choices can make a huge impact on our earth's resources. While many people are aware that bamboo is used for food and shelter, others have never heard of bamboo clothing. The people at Boody Wear are out to prove that, not only is their brand of under garments and activewear practical and comfortable, it might just help to save the world.
And, guess what? We're offering you two chances to win your own shopping spree at Boody Wear. Two Grand Prize Winners will receive a $300 eGift card towards products of their choice at Boody Wear. That's a total value of $600.00. Who's ready to win? Click below to enter now:

Boody Eco Wear
You might be thinking, "Bamboo sounds too good to be true. What's the compromise?" We've been programmed to assume there has to be some form of trade-off with switching to environmental products; soaps don't always lather up so well. Food products might not taste as good or be more expensive. However, there are actually superior benefits to bamboo eco-wear. Bamboo is revered for its speed of growth, but also its strength which used in building structures. This tensile strength adds to the durability of bamboo clothing. Simultaneously, these products are exceptionally soft and feel great against the skin. As Ron and I can attest, Boody Wear is softer, silkier, cooler and more comfortable than typical man-made fibers.
The Cotton Comparison
Did You Know? Bamboo requires very little water, making it twice as efficient as trees. Cotton, on the other hand, is a thirsty crop which can require over 5,000 gallons of water to produce a bit more than 2 pounds of cotton. Conversely, bamboo requires only 130 gallons of water to produce 3 pounds and requires no irrigation at all.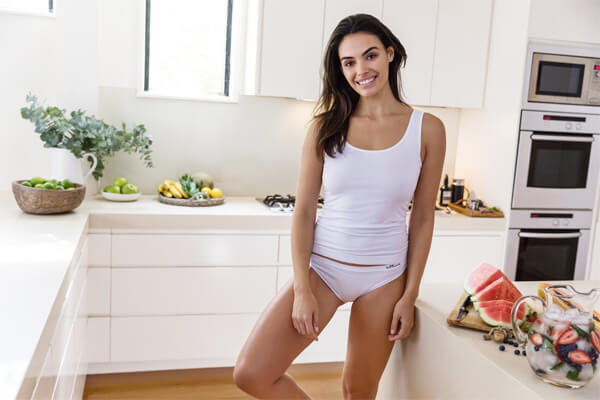 The Bamboo Process
Bamboo is a great choice when searching for a truly sustainable and affordable material. It grows rapidly, much like grass, which leads to large yields in harvest and successful regeneration. This means that plantations require no extensive farming methods and provide a natural, advantageous harvest. The dense planting and quick cycles also mean that plantations are small. This is the opposite to all those damaging palm oil plantations. Compact, natural and environmental, these small plantations with drought-resistant crop also means less water use. Add to the fact that these plants require no artificial pesticides, and it is hard not to love this approach.
Plus, the line of Boody Wear is derived from100% organic bamboo and utilizes a closed-loop eco-friendly processing system where the water is recycled encompassing zero waste manufacturing.
Feeling is Believing
There's an abundance of reasons to try bamboo when searching for new undergarments or active wear. The soft, strong material is far more pleasing and assures a more environmentally sourced material. The underwear is cooling while the socks, tees and undies are all made from viscose derived from bamboo; perfect for sensitive skin. Boody Eco Wear offers affordable luxury that looks great, feels amazing, and keeps you cool and comfy. Watch now:
Boody Eco Wear Offers Clothing for: 
Men & Women: Tops
Men & Women: Underwear
Men & Women: Socks
Men & Women: Multipacks
Women: Leggings
Women: Activewear
Baby: Tops bottoms
Baby: Wraps, socks & accessories
Oooh Bamboo Baby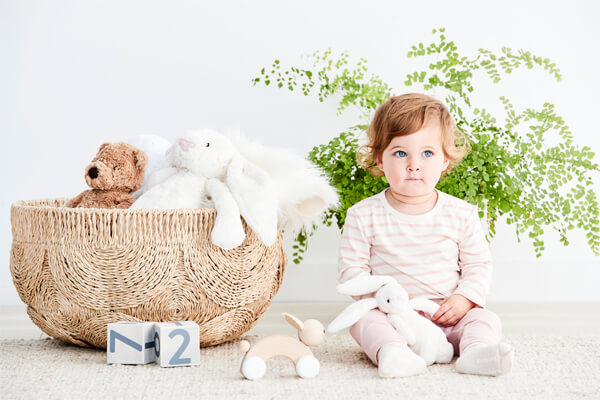 The baby line offers everything from bibs and wraps to blankies, beanies and more. Everything is spun from bamboo yarn and sure to keep you little one cool and comfy, without exposing them to harsh chemicals like heavy metals, solvents and pesticides found in traditional baby clothing.
Environmentally Sophisticated Certifications
Boody Wear goes above and beyond to ensure that their crops meet the standards for accredited certification.
1. SGS perform independent testing on products to determine strength, but also the content of heavy metals and chemicals. This provides greater peace of mind to consumers.
2. Their Ecocert certification showcases the traceability and transparency of the supply chain. All of Boody's raw bamboo is certified as organically grown by Ecocert.
3. The Boody yarn is certified organic by OCIA (The Organic Crop Improvement Association).
4. All fiber produced is Oeko-Tex 100 certified. This means that the finished fiber has been tested for any chemicals that may be harmful to a person's health and has been found to contain no trace chemicals that pose any health threat whatsoever. The bamboo is grown in accordance with the international organic standard of OCIA / IFOAM and the USDA National Organic Program, so as to ensure each bamboo stalk is of 100% natural growth and free of any chemical pesticides.
5. All Boody's factories meet the GOLD standard of WRAP (Worldwide Responsible Accredited Production) certification, ensuring sewn products are being produced under lawful, humane and ethical conditions.
6. All Boody's factories comply with the ISO 14001 specifications, ensuring an environmental management system that organizations use to reduce a negative environmental impact and contribute to the environmental "pillar of sustainability".
We're offering you two chances to win your own shopping spree at Boody Wear. Two Grand Prize Winners will receive a $300 eGift card towards products of their choice at Boody Wear. That's a total value of $600.00. Who's ready to win? Click below to enter now.

Put a (Sustainable) Sock on It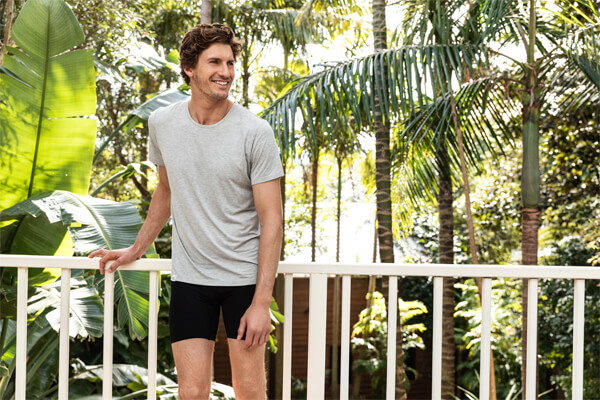 The Boody Wear line of bamboo socks for both men and women is quite impressive. Ron and I both wear them and can attest, they feel like little pillows under your feet. They have every style and I love the ladies' liners which are perfect for those ballet flats or even under your uncomfortable heels where you want a discreet sock that's not an eye sore. What makes the sock line so fabulous is they are odor-resistant, hypoallergenic, moisture-wicking and breathable. They have every style perfect for the gym or Pilates, a night out or during travel. Yes friends, these socks are comfortably cooling and well, cool.
Our shirts will make your old cotton undershirt feel like a scratchy, stinky prison. ~Boody Eco Wear

Enter to Win
SHOP & SAVE! While two lucky readers will win, everyone's a winner! Boody Wear is offering a 20% discount on all orders! Just use code: Ronandlisa at checkout as our gift to you.
Two Grand Prize Winners will receive a $300 eGift card towards products of their choice at Boody Wear. That's a total value of $600.00. Who's ready to win? Click below to enter now! Open to residents of the US. Sweepstakes ends 6/12/18. Whatcha' waiting for? Share with a friend or loved one who could enjoy the soft, silky and sustainable feel of bamboo clothing. Enter now: