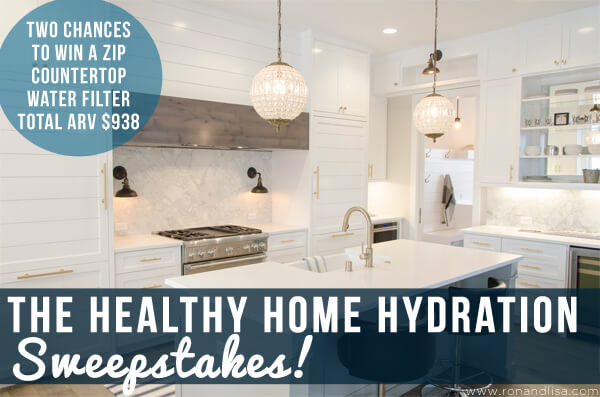 It seems like every day, we turn on the news or read an article, only to find more contaminants discovered in the drinking water across America. From the Flint, Michigan lead water crisis to Chromium-6 in the Erin Brockovich case, the examples continue to mount. Even DuPont, the maker of Teflon, was forced to pay a 107 million dollars in a class action lawsuit for dumping toxic chemical contaminants and polluting the local drinking water. To add fuel to the fire, the Guardian recently reported an investigation by Orb Media which revealed plastic fibers have been found in tap water around the world; the United States having the highest levels at 94%. According to the report, "Tests show billions of people globally are drinking water contaminated by plastic particles, with 83% of samples found to be polluted."
But, the toxic buck doesn't stop there. From chlorine and fluoride to pharmaceuticals, cancer causing Chromium-6 (detected in 75% of US tap water supplies), arsenic, bacteria, parasites and heavy metals – it's enough to make you want to stop drinking water. However, that's not an option since clean, healthy, purified water is essential for life. Our bodies are comprised of 70% water and our brains, 85%.
We should just drink bottled water then, right? Wrong. It's certainly not a wise solution to pay for overpriced bottled water with low level filtration. Plus, this only adds to the plastic contamination of our landfills. In addition, a study published in the journal, Environmental Health Perspectives, found ALL plastics exhibited some form of estrogenic activity due to the processing aids, chemicals and additives.
The Healthy Drinking Water Solution
Ron & I are thrilled to share this water purification system with you. After a decade in the industry, we've heard your concerns over bottled water and home filtration units being labor intensive, ineffective or too expensive. So, when we discovered the ZIP – Zero Installation Purifier – from Puricom, we were all ears.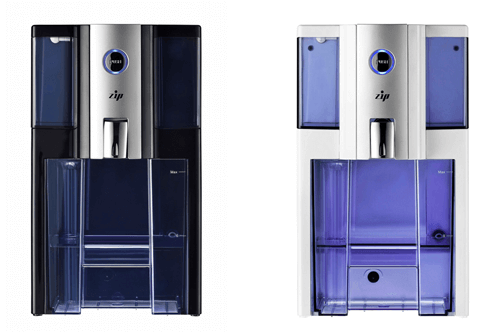 You read that right…zero installation. This countertop model is not just another pretty face (but the design really is stunning). ZIP is a portable Reverse Osmosis multi-stage filtration system that sits conveniently on your kitchen counter and guess what? If you move, ZIP comes with you (making it perfect for renters). The best part is ZIP's superior filtration, reverse osmosis. This is one of a few types of filtration mechanisms that removes many of the contaminants found in our tap water today; including fluoride, chlorine, heavy metals and more. Oh, and we're GIVING TWO AWAY in the winners' choice of color (ARV: $938.00).

How the ZIP Reverse Osmosis Water Filter Works
Pure Water Made Simple
There is no need to waste your time waiting for the filtering process to complete. Fill up the bottom container with 1 gallon of tap water, push the button and walk away. In about 10-15 minutes the top container will be filled with 0.5 gallons of purified water and ZIP will turn itself off.
BPA-FREE
Top and bottom BPA-FREE containers can be easily removed and cleaned with dish soap.
EFFICIENCY
ZIP only uses 24W of power less than a lightbulb and has 50% (1:1) recovery rate – best among reverse osmosis filters.
DESIGN
ZIP will look great in your kitchen. There are no leaky diverter valves or bulky hoses to attach to your faucet.
EASY TO MAINTAIN
The replacement filters are easy to change. Puricom will notify you for recommended filter change via red blinking light every 12 months.
What Makes ZIP the Ideal Water Filtration Solution?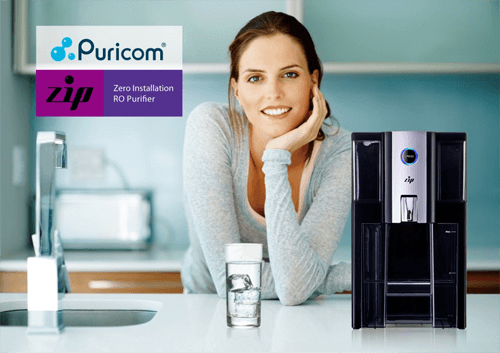 • Transforms ordinary tap water into clean, healthy, delicious and alkaline drinking water.
• Removes up to 99% of all contaminants: Fluoride, Chlorine, Heavy Metals & others. BPA Free.
• No installation or plumbing required.
• Upgraded interface, one touch for all functions.
• Simply fill the pitcher and in minutes enjoy a fresh supply for pure water.
• Perfect for students and renters who can take with them whenever they move.
• Save time effort and money with DIY twist off filters.
• For outdoor use, ZIP can operate from a car's cigarette lighter, 12V power plug.
• Environmentally friendly. 50% recovery rate. Pure water: concentrate = 1: 1.
• 100% factory tested and sterilized ready for installation.
What Others Are Saying
The water flavor is fantastic now. Not only am I drinking clean, pure water, I now look forward to having the most essential drink with me at work, at home or in my travel mug. ~Susan S., customer

Did You Know? The ZIP Filter: 

Perfect for apartments, condos & RV's.
1 Year Money Back Guarantee.
1 Year Warranty.
Free Shipping within the continental US.
SHOP & SAVE
Shop. Sip & Save. Two of our fabulous readers will win their very own ZIP unit, but the truth is – you're all winners in our eyes! Thanks to PuricomUSA, you can SAVE 10% on a new ZIP unit. Just choose the color you want by removing undesired color from the order. SHOP NOW!
Enter for a Chance to Win!
Who's ready to say goodbye to overpriced, under-filtered bottled water and enjoy fresh, clean, healthy water conveniently from home? Two Lucky Winners Will Receive: A ZIP Countertop Water Filter by Puricom – color choice of Silver White or Space Black. Retail Value: $469.00 each. That's a Total value: $938.00!
Enter NOW & be sure to tell a friend, family member or loved one who could benefit from a purified water. Sweepstakes ends 12/16/17. Open to US residents only over 18 years of age.