Green home experts Ron and Lisa Beres with Matt Lauer of The Today Show.

I was over the 'south bay' moon when I moved into my newly remodeled California beach cottage over 9 years ago. It had new, plush carpeting, white thermafoil kitchen cabinets, a fresh new coat of paint, and an adorable little gas fireplace. Ahhhhhhh, that "new‑home smell" was proof positive that everything was fresh and clean! But pretty soon I was having trouble getting out of bed in the morning. I've always been a high-energy person, but suddenly I was tired all the time. I began experiencing flu-like symptoms and my hormones were going haywire. I went to doctors, naturopaths, endocrinologists, chiropractors, and acupuncturists. None of them could tell me what was wrong. That's when I began researching. Could my "clean, fresh, new abode" be the cause of my troubles?  I discovered how toxins in our homes, food, and personal care products can bioaccumulate and wreak havoc on our bodies by creating a multitude of illnesses and diseases. I made changes to my home. My health returned… and I found a new calling.
Healthy Home Expert – A New Calling.
In 2002, Lisa Beres, a former interior designer, started feeling run down and tired all of the time suffering from chronic fatigue, sinus infections, hormone im­balances and lowered immunity after moving into a newly remodeled home. She was well aware of the abundance of toxic materials that exist in homes today from her experience as an interior designer, but was unaware these materials can off gas as dangerous chemicals into the air we breathe (ie: that "new home smell"). Lisa then began a journey in search of answers. After much research and a dozen doctor visits, she came to the conclusion that her house and products within the home were making her sick!
Building Biologists (BBEI) and Certified Green Building Professionals (CGBP).
It was through her research that Lisa decided to become a BBEI/Building Biologist (Building Biology —a study derived from Germany which encompasses how buildings impact life and the living environ­ment). With her B.A. from Arizona State University already under her belt, she then decided to incorpo­rate her two passions in life–interior design and health. After making the necessary adjustments in their home, her health gradually improved to a 180 degree turnaround and she and her husband Ron decided to help other people in their endless efforts to attain optimal health. Together with Ron who earned his B.A. from George Mason University, they chose to seek "greener pastures." In addition, Ron is also a BBEC/Building Biologist and he and Lisa are also Certified Green Building Professionals.
Green Authors, Eco Expert Team.
Husband/wife team, Lisa and Ron Beres are the founders of www.GreenNest.com, eco-experts, authors and professional speakers with in the green movement. Recently, they educated southern Cali­fornians on "How to Live a Green Life" at Maria Shriver's Women's Conference joining A-Listers including: Warren Buffet, Arnold Schwarzenegger, Jennifer Lopez, Bono, and others.
Green Spokesperson.
Green Nest's founders, Lisa and Ron Beres, are rec­ognized consultants in the green movement and, as green spokespersons, have become media personalities championing the cause of
all-natural products that nourish the body while reducing our carbon footprint. Through their Healthy Home Consultations, they helped Trista and Ryan (ABC's Bachelorette) to create a healthy and green nursery for baby Max.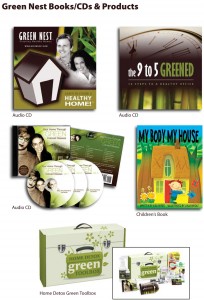 They are the authors of the Just Green It!  Simple Swaps to Save the Planet & Your Health (Running Press; 2010), Learn to Create a Healthy Home! and The 9 to 5 Greened: 10 Steps to a Healthy Office. Lisa is the author of the chil­dren's book, MY BODY MY HOUSE and most recently Your Home Through Green Colored Glasses with Sally Jessy Raphael. Lisa has been a guest on Martha Stewart Living Radio and is a regular green corre­spondent for the Sally Jessy Raphael Radio Show. They have appeared on The Rachael Ray Show, Fox and Friends, NBC's The Today Show with Matt Lauer & Kathie Lee Gifford, Chelsea Lately on E!, Dis­covery's Greenovate, The Doctors and Living Well with Montel Williams. Together they served as advi­sory board members for Cal State University Fuller­ton'sgreen building program. Giving back to chari­ties, the community and supporting green practices such as wind energy can also be found in their Eco-efforts link online!
BOOK US!
Ron and Lisa Beres, the green experts, are available for local and national TV media appearances, media tours and speaking engagements for your company or event.
To request their Press Kit, Speakers Bio,
or to schedule an appearance,
please contact: Media@RonandLisa.com